Department of Foreign Affairs helping Irish citizens in Nepal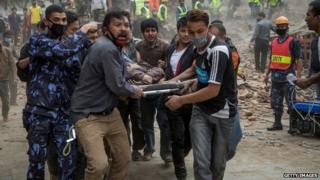 The Department of Foreign Affairs (DFA) in Dublin has said it is aware that around 100 Irish citizens are in Nepal.
Some 3,700 people were killed on Saturday in the worst earthquake there in more than 80 years.
The DFA said contact has been established with many Irish people. However communication lines have been affected so the process of contacting people may take some time.
The department said its emergency consular response team would remain in place as long as necessary to provide assistance.
One of those who had been missing, Sinead McKenna from County Monaghan, has turned up safe.
Sinead, who had been on a trekking holiday in Nepal, was able to get a flight to Kuala Lumpur along with her Canadian boyfriend on Monday.
Her sister Siobhan posted on her Facebook page that Sinead had minor injuries and had not eaten in days.
The DFA said it was working closely with the UN and NGO partners on "how Ireland can best assist in the coming days".
In a statement, the DFA said: "Communications lines have been affected so this is an ongoing process that may take some time.
"We will continue to provide consular advice and assistance over the coming days as the situation evolves.
"Our consular response team in Dublin is liaising closely with our team at the Embassy of Ireland in New Delhi which is accredited to Nepal.
"Embassy officials are continuing to work actively with EU and other international partners in the region, with a view to providing practical assistance for our citizens."
Anyone who is concerned about Irish family or friends in the region can contact the Department of Foreign Affairs on 00 353 1 418 0200.
The 6.7 magnitude tremor on Saturday was centred 60km (40 miles) east of Nepal's capital Kathmandu.
Many countries and charities have offered aid to deal with the disaster.
Seventeen people were also killed on Mount Everest by avalanches - the mountain's worst-ever disaster.