Irish woman Sinead McKenna 'saw harrowing scenes in Nepal'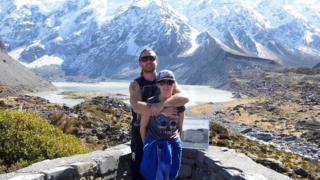 An Irish woman caught up in the Nepal earthquake has described harrowing scenes at Kathmandu airport as thousands struggled to escape.
Sinead McKenna, 31, from Monaghan, had been hiking with her boyfriend, Bert Berry, when they got caught up in Saturday's disaster.
Her family had an anxious wait as it took the couple three days to make contact.
Sinead said the airport was tiny and full of injured and dying people.
They managed to leave their hotel and spent three days at the airport, trying to get a flight out of Nepal.
"They lost their phone and their tablet and their bags in the earthquake. But they made it to the airport. Sinead said it was the size of a house - just a tiny building and it was totally chaotic," her sister, Siobhan, said.
"Sinead said thousands of people were injured or dying and there did not seem to be any airport staff.
"There was no food or water at the airport and she and Bert had not eaten since Saturday. But they managed to get on a flight to Kuala Lumpur and on to Borneo.
"They are shaken up by what they have seen and both have minor injuries. Sinead hurt her leg. But they are now catching up with sleep and food and they are okay."
'Irish citizens'
Sinead's family knew she was in Kathmandu when the earthquake struck on Saturday.
The couple managed eventually to get in touch because of the kindness of strangers.
"Sinead posted a message on Facebook to say that she had made it to Borneo," said Siobhan, who lives in New Zealand.
The good news came at 19:00 local time on Monday.
"We have been trying to contact her since Saturday. We had such a struggle trying to find her. It is amazing, we are just over the moon that she is safe," Siobhan said.
On Tuesday The Department of Foreign Affairs (DFA) in Dublin said they were tracking the cases of 150 Irish citizens who were believed to have been in Nepal at the time of the earthquake.
It said the vast majority were accounted for and are safe and well.
However 10 people have yet to make contact.
Irish Minister for Foreign Affairs and Trade, Charlie Flanagan, said: "There are no suggestions at this stage of any Irish fatalities. Some of these people may be in remote areas where communications would be sporadic at the best of times, which means it is taking time to formally account for all Irish citizens."
"One Irish citizen has been injured but is stable, and is due to be medevaced [medical evacuation] when flight clearance permits.
"Of the other citizens on our list, some have already left the area, and others have booked flights out over the next few days.
'Getting anxious'
"Commercial flights are operating out of Kathmandu so, in common with our EU partners, we are advising citizens who wish to leave to make arrangements to do so by commercial means."
County Monaghan man Thomas Drumm, 55, made contact with his relatives on Wednesday.
Mr Drumm had been travelling around Asia and arrived in Nepal last week. His cousin David Drumm said he was relieved to hear from him after a week of no communication.
In a Facebook post he said: "My cousin [Thomas Drumm] has finally made contact very early this morning to say he is ok.
"He says things are crazy around him but people are getting on with life and he is hoping to get out of the area on Friday."