Hundreds of patients recalled in Republic of Ireland after scans review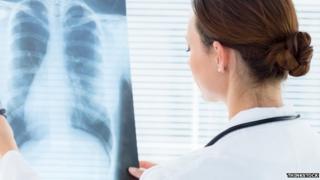 Several hundred patients have been recalled after a review of thousands of x-rays and other scans relating to three locum radiologists and seven hospitals in the Republic of Ireland.
The review was conducted by the Health Service Executive (HSE).
One patient at Bantry General Hospital in Cork has been found to have a delayed cancer diagnosis.
The main hospitals concerned are Bantry General, Cavan, Monaghan and Kerry General hospitals.
RTÉ reports that other hospitals affected to a lesser extent are Our Lady of Lourdes in Drogheda, Wexford General, Roscommon and Connolly Hospital in Dublin.
At Bantry General, 4,388 scans were reviewed over the period from May to September 2013.
Fifty patients were recalled and one delayed diagnosis was identified. The patient is alive and is being managed.
A total of 2,980 scans were reviewed at Cavan-General Hospital and 62 patients were recalled, with no serious adverse events reported.
Concerns
At Kerry General Hospital, six patients were recalled and no issues were reported.
Some of the reviews are continuing and the period under examination goes back several years. The radiologists are not working in the HSE anymore.
It is understood a number of the radiologists worked in other hospitals for a short period and this is why the review involves more than the three main hospitals.
The problems came to light after concerns were raised by colleagues of the radiologists.
The HSE has said it is in contact with all patients requiring recall for follow-up investigations.
It said that anyone who has not been contacted by one of the hospitals or their GP has no cause for concern.