Francis Kelleher: Cork priest jailed over 'Continuity IRA' death threats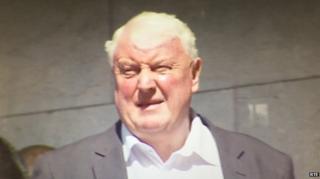 A Catholic priest who paid three men, who said they were members of the Continuity IRA, to threaten his nephew has been jailed for four years.
Francis Kelleher, a former hospital chaplain, pleaded guilty to coercion at Cork Circuit Criminal Court.
The court heard the men he paid made death threats against his nephew, warning him he would die if he did not drop a civil action against the priest.
Kelleher, 59, is still a member of the priesthood but is now out of ministry.
A detective told the court that the former chaplain's nephew, Niall Kelleher, had issued civil proceedings against the accused in May 2012.
The chaplain later discussed this civil action with another man who was not named in court.
This man, who used to bring a religious relic to sick people in hospital, told the priest that he had contacts in the IRA who could sort out the civil action issue for him.
'Last chance'
The court heard that Niall Kelleher was visited at work by three men, who told him to withdraw his statement against the priest.
They said they were members of the dissident republican group, the Continuity IRA.
The men told the victim that if he did not drop the case, he would not see the following week.
Over the next six months, Niall Kelleher continued to receive threatening telephone calls, in which he was told "withdraw your statement or die", "this is your last chance", followed by another call saying "you blew it".
In a final call in January 2013, he was told "Niall, you are a nice guy, but I have been paid a lot of money to take care of you, withdraw your statement".
The priest was said to have paid the men 4,000 euros (£2,900).
Cork Circuit Criminal Court heard that because of the death threats, the victim was put under 24-hour surveillance by police.
The married father-of-three also had to increase the security at his family home.
'Appalling behaviour'
Francis Kelleher apologised to his nephew in court, saying he never meant it to happen like this.
A defence lawyer said his client accepted Niall Kelleher had suffered hugely but that he had never intended it.
"Kelleher has lost the job he loves dearly - his life's work. He now has this criminal conviction - a man who had an impeccable character over the years," the lawyer told the court.
The judge said he had never come across an offence like it before. He said the offences went against the very foundation of justice, that a witness could be coerced or attempts made to coerce.
He said it was appalling behaviour from a man who was then a professed priest and told Kelleher he had to take a stand against "fellows who get cowards to go out onto the streets to threaten people".
Kelleher was given a four-year jail term after he admitted four counts of coercion.
Canonical proceedings
The former chaplain had been employed by the Diocese of Cork and Ross and its bishop, John Buckley, released a statement after the sentencing.
"It is deeply regrettable that such an offence could have been committed by anyone, particularly by a priest," the bishop said.
"The diocese has co-operated fully with the Garda Síochána [Irish police] in their investigations into this matter. I sincerely sympathise with those whose lives were endangered or who may have been harmed in any way by these events.
"Now that the criminal proceedings have concluded, the diocese will initiate canonical proceedings against the priest in question," he added.