German police seize explosives in anti-terror raid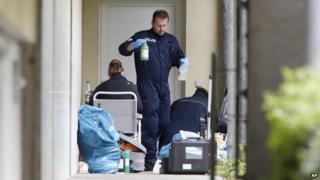 Police in Germany believe they have foiled an alleged terror plot near Frankfurt.
Officers raided a flat in the town of Oberursel and reportedly found a pipe bomb, an assault rifle and bomb-making chemicals.
Police confirmed that a man and a woman had been detained overnight.
Local media said the couple have been under surveillance since one of them bought a large quantity of hydrogen peroxide using a fake name.
"This hydrogen peroxide triggered an alert," Frankfurt's deputy chief prosecutor Stefan Rojczyk told the Associated Press news agency.
"Police figured out who had bought it and it was decided to act fast," he said.
The BBC's Jenny Hill in Berlin says that hydrogen peroxide is often used to make explosives.
'Islamist extremism'
Peter Beuth, the Hesse state interior minister, said that the arrests had foiled a possible terrorist attack and that the two suspects were thought to have links to Islamist extremists, the DPA news agency reported.
But Mr Rojczk told AP that he could not confirm whether the couple were connected to Islamist militants.
"Everything is being evaluated and this may take some time," he said.
Neither official gave details about the target of the alleged plot.
Local media report that one of the suspects had been seen close to the site of a bike race that is due to take place on Friday and that this may have triggered the anti-terror raid.
Heavily armed officers stormed the couples' apartment early on Thursday.
A hundred rounds of ammunition were also reported to have been recovered from the scene.