Irish nanny Aisling Brady McCarthy released on bail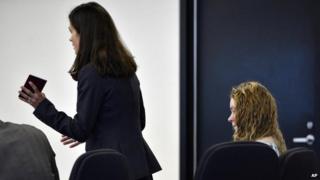 An Irish nanny charged in the US with murdering a baby in her care has been released on bail ahead of her trial.
Aisling Brady McCarthy, originally from County Cavan, denies attacking one-year-old Rehma Sabir at the baby's home in Cambridge, Massachusetts.
The baby died on 16 January 2013.
She was released on $15,000 (£9,900) bail. She will be confined to home, wear a GPS monitor and surrender her passport.
Medical review
Prosecutors had objected to releasing her on bail, saying that there was a "substantial chance of flight" as she was an illegal immigrant.
Her trial has been postponed indefinitely as the state medical examiner reviews a finding that Rehma Sabir died of traumatic head injuries and that her death was a homicide.
A doctor hired by the prosecution has changed his opinion on the timing of bone fractures that the baby sustained in the weeks before her death.
Prosecutors said the coroner's review of the case - described by the judge as unusual - was expected to take at least another month.
Ms McCarthy, who has been in jail since she was charged, will stay with family while awaiting developments in the case, her lawyer said.
The lawyer called a suggestion by prosecutors that the accused might try to obtain a new passport from the Irish consulate "ludicrous", saying she wanted to stay in the US and was anxious to clear her name.
The next hearing in the case is set for 19 May, and the earliest the trial could begin is July.
Ms McCarthy had been living in the US since 2002 and had worked as a nanny for the Sabir family for six months up until their baby's death.