Denmark attacks: Intelligence agency chief resigns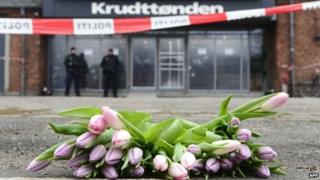 Danish intelligence agency head Jens Madsen has quit, hours before a report was released into February's fatal shootings in Copenhagen by an Islamist.
"It's no secret that it is a very demanding position," he said, without giving the reason for his resignation.
Justice Minister Mette Frederiksen declined to say whether the move was linked to criticisms of the police response to the attack.
Omar El-Hussein killed two people before being shot dead by police.
The shootings at a free speech debate and a synagogue left a film director and a Jewish man dead and five police officers injured.
'Not satisfactory'
In a statement, Mr Madsen, who had led the Danish Security and Intelligence Service (PET) since January 2014, said: "After careful consideration, I have agreed with the Permanent Secretary at the Ministry of Justice and the National Commissioner of Police that I will now undertake new tasks to develop Danish police."
He also acknowledged that his tenure had been difficult.
Meanwhile, the government report criticised some of the police actions immediately after the shootings.
It said that after the first shooting outside a cultural centre, nearly four hours passed before officers were posted outside Copenhagen's main synagogue - the scene of the second attack.
"That is too long; it's obviously not satisfactory. It can't be explained," Ms Frederiksen said.
Omar El-Hussein, 22, had been released from prison two weeks before the shootings.
Despite warnings from prison officials that he may have become radicalised in jail, PET said at the time they had "no reason" to believe he had been planning any attacks.
---
Omar El-Hussein: homegrown radical
Why Denmark was steeled for attack
---