Macedonia police killed in clashes with 'terrorists'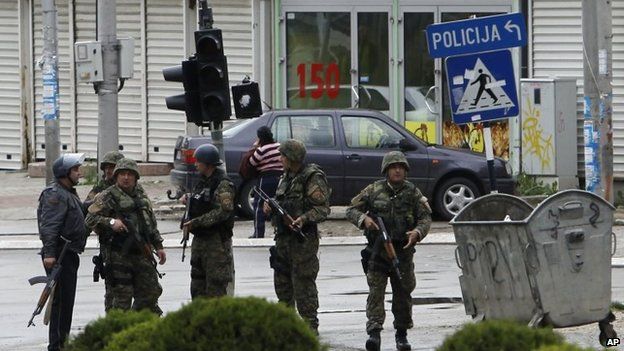 At least five police officers have been killed and dozens injured in clashes in Macedonia with unidentified gunmen in a town near the Serbian-Kosovan border.
The Interior Ministry said the armed group came from a neighbouring country, without elaborating.
The fighting broke out during an early morning raid on Saturday in an ethnic Albanian part of the town of Kumanovo.
Police are continuing to search houses in the area. Some residents have been accused of sheltering the fighters.
Interior Minister Gordana Jankulovska said police were attacked with bombs and automatic rifles, and that the group had been planning attacks on state institutions.
She described the five officers killed as "heroes who gave their lives today for the Republic of Macedonia".
Some of the attackers were also killed and 20 had surrendered, she added.
Shooting continued late into Saturday evening, witnesses said, as the group continued to put up resistance.
Last month, about 40 ethic Albanians from Kosovo briefly took over a Macedonian police station in the village of Gosince near the border, demanding the creation of an Albanian state in Macedonia.
In 2001, rebels demanding greater rights for the ethnic Albanian minority launched an uprising against the government.
Further conflict was averted by a peace agreement, which guaranteed ethnic Albanians greater recognition, but tensions have continued to simmer.
The government is already under pressure over claims of illegal wire-tapping and the alleged cover-up of the death of a man in 2011.
Thousands of protesters clashed with riot police in the capital on Wednesday.
Macedonia's political crisis dates back to last year's elections, when an opposition party made allegations of electoral fraud, denounced the government as a dictatorship, and boycotted parliament.
The opposition and the government have accused each other of deliberately destabilising the country.