Dublin: Fleece and bag link to abandoned baby's mother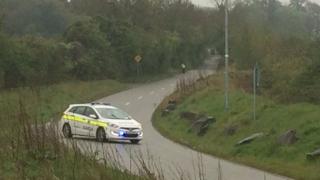 A fleece, a black bag and a green carrier bag could help in the search for the mother of a newborn baby girl, police in the Republic of Ireland have said.
They put the items, which were similar to those found with the little girl, on display on Monday.
The baby was discovered in a bag at Steelstown Road, Rathcoole, County Dublin, on Friday afternoon.
It is thought that she may have been born 24 to 36 hours earlier.
Police have appealed again to the baby's mother to contact them.
Garda Superintendent Brendan Connolly said she had nothing to fear and would be dealt with in a sensitive way.
He said officers were very concerned for her welfare.
The baby girl is being cared for at the Coombe Hospital in Dublin where staff have called her Maria.
She was found wrapped in a blanket inside a plastic bag with a paper bag on the outside.