Same-sex marriage: Catholic bishops pen letters ahead of referendum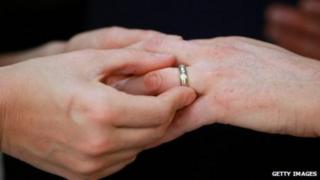 Letters from Catholic bishops are being read out at Masses on Sunday arguing against a proposal to change the constitutional definition of marriage.
Voters in the Republic of Ireland will take part in a national referendum on 22 May on legalising same-sex marriage.
If it passes, Ireland will become the 18th country in the world to legalise same-sex unions.
The vote marks a pivotal moment in the evolving relationship between church and Irish state.
It pits religious leaders against the government in an historically conservative and Catholic country.
The church has urged the public to reject the proposal, while the major political parties say it is a civil not a religious matter and are campaigning for a Yes vote.
The Archbishop of Dublin, Diarmuid Martin, has challenged claims by Yes campaigners that legalising same-sex marriage would not affect its opponents or church marriages.
Gay rights in Ireland
2015
Ireland votes on 22 May
2013 Cabinet agrees to same-sex marriage referendum

2011 First same-sex civil partnership takes place

2010 Civil Partnership Act introduced

1993 Homosexuality de-criminalised
Brian Lawless
Similar messages are being delivered to churchgoers in the Archdiocese of Cashel and Emly and in the dioceses of Galway, Killala, and Elphin on Sunday.
Dr Martin wrote that a Yes outcome in the referendum would affect every citizen, because it would "fundamentally change the philosophy which underpins cohesion in society".
He said no politician could promise that legalising same-sex marriage would not affect its opponents or church marriages since it would be exclusively up to the courts to interpret the amended constitution.
The Archbishop of Cashel and Emly, Kieran O'Reilly, said that while none of the bishops in Ireland wanted to alienate or denigrate any individual or group, they believe marriage between a man and a woman is an institution that is fundamental to both human life and society's well-being.
---
Why is Ireland holding a referendum?
Seventeen countries, and some states in US and Mexico, have legalised same-sex marriage through legislation or court rulings. Laws in Finland and Slovenia are pending
Ireland wants to change its constitution to extend civil marriage rights to same-sex couples
Any constitutional amendments must be approved by parliament and then put to the people in a referendum
On 22 May, Ireland will ask its citizens if "marriage may be contracted in accordance with law by two persons without distinction as to their sex"
Only Irish citizens who are registered and living in the state can vote
Past referendums have been very divisive. In 1995, after fierce debate, a vote to legalise divorce narrowly passed by 51% to 49%
---
However, an alliance of three faith groups campaigning for a Yes vote has complained to the Catholic Primate of All Ireland, Archbishop Eamon Martin, that Vote No literature which is insensitive to gay people, is being distributed in churches.
We are Church Ireland, Faith in Marriage Equality, and Gay Catholic Voice Ireland, asked that only official church literature be stocked in parishes.
They suggested to Archbishop Martin that he might tell Catholics that, after careful reflection, they may in good conscience decide to vote Yes.
Meanwhile, a series of opinion polls suggest the Yes side is leading in the marriage referendum campaign.
The polls in Sunday's Business Post, Sunday Independent and Sunday Times suggest a narrower gap with the No side, as more voters say they are undecided or intend to vote No.
Homosexuality was illegal in Ireland until 1993.