Chechnya's Kadyrov calls for WhatsApp ban for wives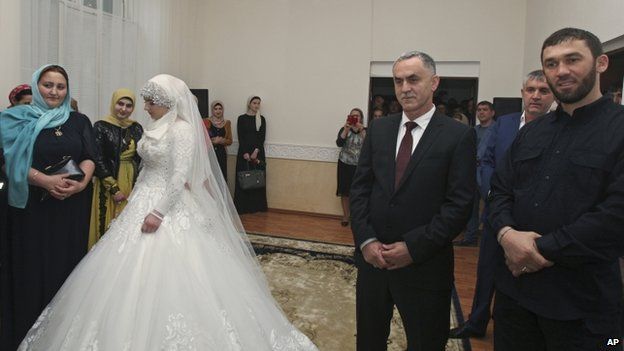 Chechnya's leader has urged men to stop their wives using WhatsApp after anger over a controversial forced marriage spread on the messaging service.
"Lock them in, do not let them go out, then they will not post anything," Ramzan Kadyrov was quoted as saying.
Mr Kadyrov had earlier backed a police chief's marriage to a 17-year-old, even though he was already married, in apparent violation of Russian laws.
His chief of staff has since proposed legalising polygamy in Chechnya.
Mr Kadyrov, an authoritarian leader and close ally of Russian President Vladimir Putin, has in recent years outlawed the abduction of brides and underage marriage.
He is also thought to be in favour of polygamy. His top aide Magomed Daudov said: "It all has to be in keeping with Sharia: But if a man can support more than one wife, then why not?"
Most people in Chechnya, a Russian republic in the North Caucasus are Muslim.
Before Saturday's ceremony, local media reported that police chief Nazhud Guchigov, 47, had prevented Kheda Goylabiyeva from leaving her home and threatened her family with reprisals if they did not hand her over.
Mr Kadyrov, who took charge of Chechnya with Kremlin support in 2007, was said to have given his personal blessing to the marriage.
Mr Kadyrov denounced discussion of the marriage on Whatsapp in comments broadcast on local state-run TV.
"Stop. Behave like Chechens," he was reported as saying. "The family honour is the most important thing.
"Do not write such things. Men, do take your women out of WhatsApp."
Last week he took to his Instagram account to criticise Russian media coverage of the marriage as "this fuss ordered by some liberals".
"The girl's parents gave their blessing to this marriage," he claimed, arguing that reports to the contrary were filled with lies.
Mr Kadyrov has been a key ally of President Putin, suppressing dissent after Russia ousted the separatist government in the region at the beginning of the century.