Turkey's AKP works to try and form new government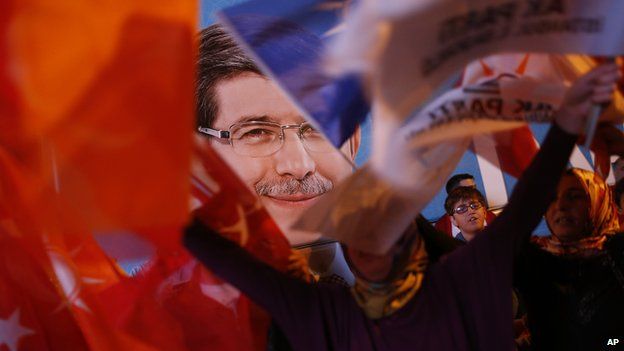 Turkey's AK party is meeting to try to form a government after losing its majority at a general election for the first time in 13 years.
It secured 41%, a sharp drop from 2011, and must form a coalition or face entering a minority government.
The Turkish lira and shares dropped sharply on Monday morning.
President Recep Tayyip Erdogan said no party had won enough support to govern alone - indicating the AKP would seek to form a coalition.
Mr Erdogan called for all parties to take a "healthy and realistic" evaluation of the results.
Prime Minister Ahmet Davutoglu is meeting AKP cabinet members and officials to assess the election results in Ankara.
After the official final result is declared, he will have 45 days to form a government.
No party has yet indicated it is willing to join a coalition with the AKP.
One of Mr Davutoglu's deputies, Numan Kurtulmus, said he believed a government could be formed in that time, but that an early election was possible.
The result is a blow to Mr Erdogan's plans to boost his office's powers.
He first came to power as prime minister in 2003 and had been seeking a two-thirds majority to turn Turkey into a presidential republic.
The pro-Kurdish HDP crossed the 10% threshold, securing seats in parliament for the first time.
HDP leader Selahattin Demirtas ruled out entering into a coalition with the AKP.
"The discussion of executive presidency and dictatorship have come to an end in Turkey with these elections," Mr Demirtas said.
Many turned out to vote in the HDP's heartland of Diyarbakir, two days after a bombing in the eastern city killed two people and injured 200 more.
The People's Democratic Party was founded as a pro-Kurdish party in 2012
There are 15m Kurds in Turkey - or 20% of the population
The party has since attracted support across the left
It had the only openly gay candidate in Turkey's elections
A higher proportion of women ran for the HDP than any other party
On Monday morning, the Turkish currency fell to near-record lows against the dollar, and shares dropped by more than 8% soon after the Istanbul stock exchange opened.
The central bank acted quickly to prop up the lira by cutting the interest rate on foreign currency deposits.
The BBC's Mark Lowen in Istanbul
The AKP has polled worse than it ever feared and lost its majority. President Erdogan will be unable to change the constitution and extend his powers.
It's a stark contrast with the HDP, which gambled to run as a single party for the first time, hoping to cross the 10% threshold. It paid off, gaining a significant voice for the Kurdish minority on the national stage.
It succeeded by appealing beyond the Kurds, drawing in leftists and staunch Erdogan opponents with its message of equality, gay rights and environmental concerns.
This could be the start of a new political era here; a major setback for a president who has polarised this nation.
In a volatile Middle East, Turkey matters greatly - and so the path it takes, the nature of its democracy and the leaders it produces, all have implications far beyond its borders.
With nearly all the votes counted, the AKP looks likely to win 258 seats in parliament, 18 fewer than it requires for a majority.
The Republican People's Party (CHP) again looks likely to be the second largest party, polling around 25% of the vote.
In third place is the Nationalist Movement Party (MHP) on 16.5%, with the People's Democratic Party (HDP) in fourth with 13%.
The HDP is expected to finish with 75 to 80 seats after attracting votes beyond its Kurdish support base.
Recep Tayyip Erdogan - key dates
1994-1998 - Mayor of Istanbul, until military officers make power grab
1998 - Islamist Welfare Party banned, Erdogan jailed for four months for inciting religious hatred
Aug 2001 - Founds Islamist-rooted AK Party (Justice and Development) with ally Abdullah Gul
2002-3 - AKP wins solid majority in parliamentary election, Erdogan appointed prime minister
Jun 2013 - Clashes as protesters rally at Gezi Park in Istanbul against AKP's urban redevelopment
Dec 2013 - Corruption inquiry sparks feud between Erdogan and erstwhile ally, US-based Islamic cleric Fethullah Gulen
Aug 2014 - Becomes president after first-ever direct elections for head of state