Hungary says it has not suspended a key EU asylum rule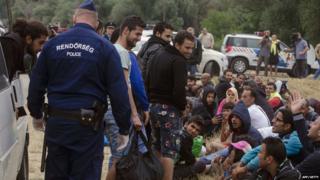 Hungary says it has not suspended an EU rule on processing asylum claims, a day after announcing the move.
Foreign Minister Peter Szijjarto said the government had merely asked for a grace period to deal with the thousands of migrants crossing its border.
His comments came after neighbouring Austria reacted angrily to any suggestion of suspending the rule.
The rule says that examining an asylum seeker's claim should usually be done by the first EU country they reach.
Under the Dublin Regulation, Hungary is compelled to take back asylum seekers who first enter the country but then travel on to other EU member states.
Hungary says it has become a popular point of entry for migrants taking the overland route into Europe, with more than 60,000 people entering illegally so far this year.
"Minister Peter Szijjarto has informed his Austrian counterpart that Hungary was not suspending any rule of the European Union," the foreign affairs ministry said in a statement on Wednesday.
Earlier, Austria had warned that there would be negative consequences if Hungary continued with its suspension of the Dublin Regulation, a core principle for handling asylum claims in the EU.
"Hungary's decision is completely unacceptable for us," Austria's Interior Minister Johanna Mikl-Leitner told Austrian Radio (ORF).
She added that Austria would consider reinstating border controls on its border with Hungary in response.
'Fast action'
The Dublin Regulation has already caused tension in the EU and is under review.
Finland and Germany are among several countries that have stopped sending migrants back to Greece after the country complained that it was being inundated with asylum applications.
Hungary had given a similar reason for opting out of the Dublin Regulation, saying that it was overburdened by illegal immigration.
"The situation requires fast action; in this escalated situation Hungary needs to take a move ahead of EU decisions," a Hungarian government spokesman said on Tuesday.
Critics say that the announcement is only the latest anti-immigrant rhetoric from the Hungarian government.
It has already announced plans to build a wall to run the length of the 175km (109-mile) border with Serbia.
A recent government billboard campaign with messages such as "If you come to Hungary, don't take the jobs of Hungarians!" has also caused controversy.
The poster campaign is part of the government's efforts to win public support for tough new immigration laws that are expected soon.