Greek debt crisis: What the Greek papers say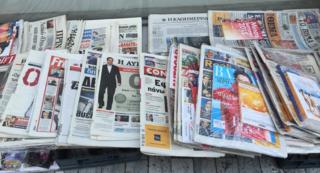 As the Greek parliament backs a decision by Prime Minister Alexis Tsipras to hold a referendum on the international bailout offer, editorials in Greek newspapers have very different views on where the country is headed next.
The newspaper of Mr Tsipras' party Syriza, I Avgi, has a big "NO" plastered across its front page.
"No to blackmail, no to ultimatums, no to social bankruptcy, no to memorandums and austerity," it declares.
The paper emphasises that the upcoming referendum is a democratic option, and says it is a positive move for both Greece and Europe.
The centre-right Kathimerini paper goes with the headline "Clouds over the Attic sky" alongside a picture of dark skies above Greek and EU flags.
"We WILL stay in Europe," says the defiant editorial. "This country should not be divided again," it continues, referencing the Greek Civil War in the 1940s.
The popular Proto Thema, an anti-Syriza Sunday newspaper, polled 1,000 people across the country, and says 57% of those questioned would prefer any deal that keeps Greece in the eurozone. Some 14% refused to answer the question.
"We won't go 100 years backwards, just because Syriza cannot negotiate," the paper says.
The communist paper Rizospastis (in Greek) links the eurozone to the abuses of big money and power. However, the paper is not pro-referendum. The leader of the communist party on Saturday called for Greeks to spoil their ballot.
Free Press, a centre-right newspaper, says Mr Tsipras is "gambling with the future of the country".
It brands the situation a "national tragedy", and calls the Greek prime minister a hypocrite for his opposition to a referendum proposed in 2011 by former prime minister George Papandreou.
"The big dilemma" runs the headline in Ethnos (in Greek), a centrist newspaper. "The Greek people will have to say 'yes' or 'no' to Europe," the editorial says, rather than to any particular bailout proposals.
Tabloid newspaper Sunday Democracy warns that a storm is approaching Greece, after "dramatic developments". Greece is at the most difficult point in its modern history, it warns.
It also runs the somewhat hysterical headline "Panic at the ATMs".