Greece crisis: Eurozone rules out talks until after referendum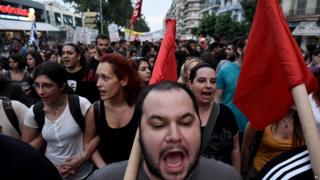 Eurozone finance ministers have ruled out any further talks on a fresh bailout for Greece until the country holds its referendum on Sunday.
Greeks will be asked to accept or reject proposals made by creditors last week, with Prime Minister Alexis Tsipras urging a "No" vote.
Finance Minister Yanis Varoufakis accused the creditors of blackmail.
But he pledged a deal would be reached soon after the vote and that current limits on bank withdrawals would ease.
Greek banks did not open this week after the European Central Bank froze their liquidity lifeline.
Withdrawals from cash machines are capped at just €60 (£43; $66) a day but some bank branches have reopened to allow pensioners - many of whom do not use bank cards - a one-off weekly withdrawal of up to €120.
Long queues formed outside banks for a second day on Thursday morning.
Local media are reporting growing pressure on the economy, with businesses halting production because they are unable to pay suppliers, and some shops considering giving unpaid leave to staff.
Greece's left-wing Syriza government, elected on an anti-austerity platform, has been in deadlock with its creditors for months over the terms of a third bailout.
With the previous eurozone bailout expired, Greece no longer has access to billions of euros in funds.
Athens missed the deadline for a €1.5bn (£1.1bn; $1.7bn) repayment to the International Monetary Fund on Tuesday.
Last weekend, the Greek government took the unilateral decision to hold a vote. EU leaders have warned that a "No" vote may see Greece leave the eurozone - though Mr Tsipras says he does not want this to happen.
A poll cited by euro2day.gr said 47% of people were leaning toward a "Yes" vote, with the "No" camp at 43%. A previous poll suggested the "No" camp had a shrinking lead.
---
Adler: Politics trumps economics
Greek press splits over referendum
---
On Wednesday Mr Tsipras put new proposals to eurozone partners, accepting most of what was on the table before talks with creditors collapsed last week, but with conditions.
His latest offer is tied explicitly to agreement on a request for a third bailout from the eurozone's bailout fund lasting two years and amounting to €29.1bn.
However, later Mr Tsipras made a defiant speech on national TV confirming Sunday's vote would go ahead and urging a "No" vote to strengthen Greece's hand in negotiations.
Mr Varoufakis said later in a TV interview: "This is a very dark moment for Europe. They have closed our banks for the sole purpose of blackmailing what? Getting a 'Yes' vote on a non-sustainable solution that would be bad for Europe."
But he added: "On Monday, the creditors, the lenders will have taken the message by the Greek people... So as soon as they get this message, be sure that in a very short time there will be a response."
Dutch Finance Minister and Eurogroup President Jeroen Dijsselbloem replied to Mr Tsipras's proposals by saying a new bailout could only be discussed "after and on the basis of the outcome of" the vote.
The BBC's James Reynolds in Athens says EU negotiators believe the proposals themselves have now expired and that there is little point in taking the country's phone calls until the referendum is held.
IMF chief Christine Lagarde appeared to hint at frustration with the the Greek government.
"We have received so many 'latest' offers, which themselves have been validated, invalidated, changed, amended, over the course of the last few days, that it's quite uncertain exactly where the latest proposal stands," she told Reuters.
The European Commission - one of the "troika" of creditors along with the IMF and the ECB - wants Athens to raise taxes and cut welfare spending to meet its debt obligations.
German Chancellor Angela Merkel was among those insisting talks must follow the outcome of the vote.
---
Lenders' proposals - key sticking points
VAT (sales tax): Alexis Tsipras accepts a new three-tier system, but wants to keep 30% discount on the Greek islands' VAT rates. Lenders want the islands' discounts scrapped
Pensions: Ekas top-up grant for some 200,000 poorer pensioners will be phased out by 2020 - as demanded by lenders. But Mr Tsipras says no to immediate Ekas cut for the wealthiest 20% of Ekas recipients
Defence: Mr Tsipras says reduce ceiling for military spending by €200m in 2016 and €400m in 2017. Lenders call for €400m reduction - no mention of €200m
Source: European Commission document, 26 Jun 15 (pdf)
---
However, French President Francois Hollande said he wanted a deal to be found before the referendum.
"We have to be clear. An accord is for right now, it will not be put off," he said.
Human rights body the Council of Europe has said the referendum would "fall short of international standards" if held as planned on Sunday, citing the short notice given to voters and the lack of clarity in the question to be put to voters.
---