Greek debt crisis: 'No' vote 'won't lead to better deal'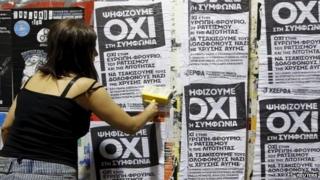 A "No" vote in the Greek referendum on bailout terms would not provide Greece with an easy way out of its economic crisis, the head of the grouping of eurozone finance ministers has said.
Jeroen Dijsselbloem's comments came after Greek Prime Minister Alexis Tsipras told Greeks a "No" vote would lead to a "better agreement".
But Mr Dijsselbloem insisted that suggestion was "simply wrong".
Long queues of pensioners have formed outside Greek banks for a second day.
Meanwhile, the International Monetary Fund (IMF) has issued a report saying that the embattled country needs an extra 50bn euros ($55bn) over the next three years to stabilise its finances under the existing, disputed creditor plans.
In the report, the IMF cuts its forecast for Greek economic growth this year from 2.5% to zero, saying that changes in Greek policies and its financial outlook since early 2015 "have resulted in a substantial increase in financing needs".
---
At the scene: Joe Miller, BBC News, Athens
Greece's banks have now been closed to all but pensioners for four days, and Athenians have settled into a crisis routine.
At the stroke of midnight, queues form at cash machines as locals scramble to obtain their daily €60 ration.
Neighbours confer over which ATMs are still dispensing €20 bills - those with other denominations can only pay out €50 per day.
But despite the posters that adorn every tree and lamppost calling for "everyone to take to the streets", the large protests of the past few days have largely died down.
In the radical left Exarcheia neighbourhood, exhausted young anarchists lounge outside bars and cafes, and let the banners hanging across the central square speak for them.
"No to EU and IMF terrorism," reads one.
"€ + Germany = oppression," reads another.
Splits threaten Syriza coalition
Is Greece's exit from the euro inevitable?
---
Mr Dijsselbloem, who is also the Dutch finance minister, told a parliamentary committee in the Netherlands that a rejection of the current bailout terms by Greek voters in Sunday's hastily arranged referendum would make it hard for the two sides to bridge "fundamental differences".
It would place both Greece and Europe in a "very difficult position", he said.
"The Greek government is rejecting everything with the suggestion that if you vote 'No' you will get a better or less tough, or more friendly package. That suggestion is simply wrong," he added.
Greece's banks stayed shut this week after emergency funding from the European Central Bank (ECB) was frozen, though some branches have reopened to allow pensioners - many of whom do not use bank cards - a one-off weekly withdrawal of up to €120.
Withdrawals from cash machines are capped at just €60 a day.
Local media are reporting growing pressure on the economy, with businesses halting production because they are unable to pay suppliers, and some shops considering giving unpaid leave to staff.
Now that any deal before the referendum has been ruled out by European leaders, both sides are hoping the argument is finally settled by the ballot box.
Greece's left-wing Syriza government, elected on an anti-austerity platform, has been in deadlock with its creditors for months over the terms of a third bailout.
Last weekend, it took the unilateral decision to hold a vote on those terms.
On Tuesday, the previous eurozone bailout expired, depriving Greece of access to billions of euros in funds, and Athens missed a €1.5bn repayment to the IMF.
EU leaders have warned that a "No" vote on Sunday may see Greece leave the eurozone - though Mr Tsipras says he does not want this to happen.
Divisions in Greece have sharpened ahead of the vote. A poll cited by euro2day.gr said 47% of people were leaning toward a "Yes" vote, with the "No" camp at 43%. A previous poll suggested the "No" camp had a shrinking lead.
Greek Finance Minister Yanis Varoufakis has said he will resign if the "Yes" campaign wins.
But he told the BBC he was confident that a deal would be reached very shortly after Sunday's referendum, allowing banks to reopen on Tuesday.
"A lot of people will interpret this as a 'Yes' or 'No' to the euro but it is the wrong interpretation. Our government is determined to stay in the euro, it's not on our radar screen to do anything other than that."
Mr Varoufakis described the programme that creditors had imposed and wanted to continue imposing on Greece as "a travesty, a comedy of errors".
He added: "The programme they imposed on Greece is going to go down in economic history as the greatest cock-up ever."
---
Lenders' proposals: Key sticking points
VAT (sales tax): Alexis Tsipras accepts a new three-tier system, but wants to keep 30% discount on the Greek islands' VAT rates. Lenders want the islands' discounts scrapped
Pensions: Ekas top-up grant for some 200,000 poorer pensioners will be phased out by 2020 - as demanded by lenders. But Mr Tsipras says no to immediate Ekas cut for the wealthiest 20% of Ekas recipients
Defence: Mr Tsipras says reduce ceiling for military spending by €200m in 2016 and €400m in 2017. Lenders call for €400m reduction - no mention of €200m
Source: European Commission document, 26 Jun 15 (pdf)
---
On Wednesday Mr Tsipras put new proposals to eurozone partners, accepting most of what was on the table before talks with creditors collapsed last week, but with conditions.
His latest offer was tied explicitly to agreement on a request for a third bailout from the eurozone's bailout fund lasting two years and amounting to €29.1bn.
But he later made a defiant speech on national TV confirming Sunday's vote would go ahead and urging a "No" vote to strengthen Greece's hand in negotiations.
The European Commission - one of the "troika" of creditors along with the IMF and the European Central Bank - wants Athens to raise taxes and cut welfare spending to meet its debt obligations.
The Council of Europe has said the referendum would "fall short of international standards" if held as planned on Sunday, citing the short notice given to voters and the lack of clarity in the question to be put to voters.
---
Are you in Greece? What are your concerns? Do you have friends and family in the country who may be affected? Email haveyoursay@bbc.co.uk with your experiences.
If you would be happy to speak further to a BBC journalist, please include a contact telephone number. You can also tweet your stories to @BBC_HaveYourSay or text 61124. If you are outside the UK, send them to the international number +44 7624 800 100.
Or WhatsApp us on +44 7525 900971
Read our terms and conditions.