France Primark siege: Police hunt armed attackers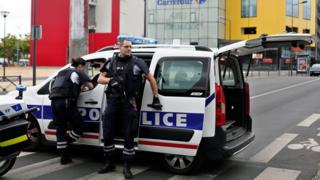 French police are hunting for three armed men who stormed a Primark store in a suspected robbery attempt north of Paris.
The gunmen fled the scene after special forces evacuated 18 people trapped inside the Qwartz shopping centre in Villeneuve-la-Garenne.
None of those released 18 people was injured. The area around the shopping centre has been shut down.
The incident began early on Monday and lasted several hours.
"At around 06:30 (04:30 GMT), three armed criminals went into the Primark store for what we think was initially an attempt at armed robbery," a police source, who wished to remain anonymous, is quoted as saying by AFP news agency.
Another police source said an employee first alerted her boyfriend of the hold-up at around 07:00 when she sent him a text message saying they had been taken hostage by two armed men.
There are reports that one of the men has been recognised as a Primark employee, but there has been no confirmation from police.