Suruc massacre: Turkey suicide bombing suspect identified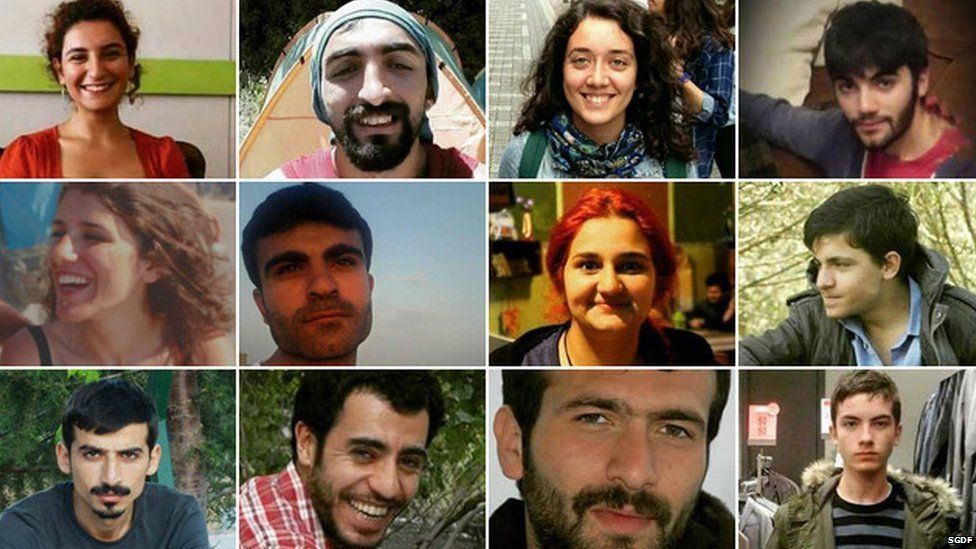 A suspect has been identified in the suicide bomb attack that killed 32 young activists in Turkey, the country's prime minister has said.
Ahmet Davutoglu, speaking near the scene of the blast in Suruc near the Syrian border, said the suspect's international and domestic links were being investigated.
He said there was a "high probability" the Islamic State group was to blame.
The government has now vowed to increase security at the Syrian border.
"What's necessary will be done against whomever is responsible," said Mr Davutoglu. "This is an attack that targeted Turkey."
He rejected claims that the ruling Justice and Development Party (AKP) had not done enough to combat IS militants, saying the government had "never tolerated any terrorist group".
A cabinet meeting on Wednesday was due to examine additional security measures along the border with Syria.
IS militants have not responded to claims that they were behind the bombing.
Officials initially suggested the bomber might have been female, but Turkish media outlets have subsequently named a man in connection with the attack.
The youth activists, who were mainly university students, were holding a news conference when the bomb ripped through the Amara Cultural Centre on Monday afternoon.
They had been planning to travel to Syria to help rebuild the town of Kobane.
The funerals of many of the victims have already taken place, including a mass ceremony for 25 of those who died.
Mr Davutoglu said 29 of the 100 people who were injured were still being treated in hospital.
At the scene: Hatice Kamer, BBC Turkish Service
We saw families looking for their sons and daughters in Suruc hospital.
A young mother was crying. She said she couldn't find her child, dead or alive, so they left to continue their search in another hospital.
Then I saw Shemsa, the mother of Murat Yurtgul, a psychology student in Istanbul. He had phoned his mother just half an hour before the attack and told her that they were going to Kobane.
His mother says she saw his name on the list but couldn't place him in the mortuary nor the hospital. This morning Murat's uncle called to say an unrecognisable body had been found in a nearby Gaziantep mortuary.
Emre Genc survived the bomb attack. He was taking pictures at the meeting and fled when the explosion happened.
He says the group of young people was in a very joyful mood one second and the next, body pieces were scattered all over the place.
There has been criticism from the main opposition party, CHP, and Kurdish groups that a national day of mourning has not been declared by the government.
The government declared three days of mourning when Saudi King Abdullah died in January.
Suruc is home to many refugees who have fled fierce fighting between IS and Kurdish fighters in nearby Kobane.
There were violent clashes across Turkey on Monday night, as protesters took to the streets to accuse the government of not doing enough to combat the threat of IS.
Two people were wounded after being shot during clashes in Mersin. According to Reuters, demonstrators in Istanbul chanted slogans accusing Turkish President Recep Tayyip Erdogan of collaboration with IS.
Western states have also accused Turkey of not doing enough to halt the rise of group, but the country appears to have taken a harder line against it in recent weeks.
BBC Middle East correspondent Jim Muir said the authorities were now likely to target militants within Turkey itself in response to this attack, which could lead to further retaliatory attacks.