Ukraine 'blacklists' French actor Depardieu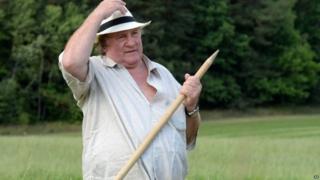 Ukraine has banned French actor Gerard Depardieu from entering the country for five years, local media say.
Ukraine's Security Service spokeswoman Olena Hitlianska was quoted as saying the move came at the request of the culture ministry.
The ministry had reportedly drafted a list of actors, musicians and other cultural figures who supported Russia's annexation of Crimea in 2014.
Mr Depardieu, 66, has described Russia as a "great democracy".
In 2013, he received a Russian passport from President Vladimir Putin, after deciding to leave France to avoid paying higher taxes.
Last week, he was given a lesson in hand-scything by Belarus's President Alexander Lukashenko during a surprise visit.
Mr Lukashenko, once described by US officials as "Europe's last dictator", hosted Mr Depardieu at his residence near the capital Minsk.