Guinness brewery waste idea to help power new children's hospital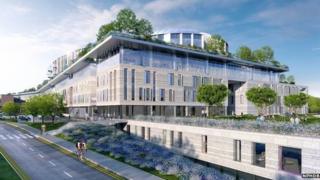 Developers are trying to find out if waste heat produced by the Guinness brewery in Dublin could be used to help power a new children's hospital.
The hospital is to be built near the St James's Gate brewery, just outside the city centre.
It will amalgamate three existing children's hospitals, on a site shared with St James's Hospital for adults.
However, the hospital's developers and the drinks firm said the heat recycling idea was still at a very early stage.
'Feasibility study'
The idea was revealed by the Irish Independent, hours after the planning application to construct the new hospital was submitted to the Irish Planning Board (An Bord Pleanála).
The newspaper said the developers were "exploring pumping hot water or steam from the Guinness brewery to the new hospital".
A spokeswoman for the developers confirmed options were being explored and that a feasibility study would be carried out before any decisions were made.
The hospital, costing 650m euros (£460m) is the Republic of Ireland's largest ever single investment in healthcare.
The project is overseen by the National Paediatric Hospital Development Board (NPHDB), established in 2007.
'Important milestone'
It will bring Temple Street Children's University Hospital, Our Lady's Children's Hospital in Crumlin and the National Children's Hospital in Tallaght together under one roof.
Speaking as the planning application was submitted on Monday, Minister for Health Leo Varadkar said: "Today is an important milestone on the road to building our long-awaited world-class new National Children's Hospital.
"The plans are spectacular and the design is iconic," he added.
The minister said that subject to planning permission, construction "will be well under way in the new year".
Louis Roden, who chairs the New Crumlin Hospital Group, said supporters have been campaigning for a new children's hospital for more than a decade.
As a father-of-two children with cystic fibrosis, he said existing facilities were limited and a modern, custom-built hospital was required.
'Fantastic design'
"The only thing that a parent of a critically sick child cares about is getting the best possible care for their child, and that means having the children's hospital located on a shared campus with an adult teaching hospital," Mr Roden said.
"St James's Hospital is one of the leading teaching hospitals in Ireland. There is no other location for the new children's hospital as far as we are concerned.
"We have a fantastic design, the site is right - now let's just get it built."