Gold bar found by teenage girl in German lake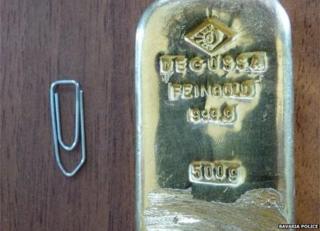 A 16-year-old holidaymaker has found a 500g (1lb) gold bar worth €16,000 (£11,500) while swimming in a lake in Germany, police say.
The teenager discovered the precious metal at a depth of about 2m (6.5ft) near the shore of Bavaria's Koenigssee lake on Friday.
She handed it into police who are now investigating where it came from and who owned it.
Police divers checked the area for more gold on Tuesday but found nothing.
The find revived rumours of Nazi gold supposedly lost in the lake, near Germany's southern border with Austria, but reports said the find was not connected to the Nazi era.