Russian art chiefs condemn 'Orthodox' raid on Sidur works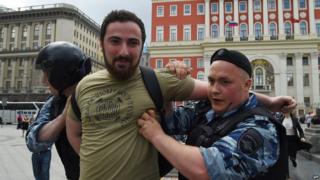 Top art gallery directors in Russia have denounced vandalism by Orthodox Christian activists who attacked a Moscow art exhibition last week.
In an open letter the gallery chiefs condemned the God's Will group, who damaged sculptures by Soviet-era artist Vadim Sidur on 14 August.
The directors of Moscow's world-famous Pushkin Museum and Tretyakov Gallery were among the signatories.
They warned that the attack "threatens all of Russia's museum community".
Separately, the head of the Hermitage Museum, Mikhail Piotrovsky, also deplored the attack, calling it "an attempt to portray the Russian Orthodox Church as primitive and aggressive".
But he also criticised the "nervous" public response to the attack, saying "our society is sick".
The sharp comments by museum chiefs follow a spate of demonstrations by conservative activists, who support President Vladimir Putin and claim to defend Russia's traditional values.
Censored sculptor
The God's Will protest at Moscow's Manezh exhibition hall near the Kremlin, was led by Dmitry Tsorionov, also known as Enteo. The activists said the artworks were offensive to Christian worshippers.
A Manezh official, Yelena Karneyeva, said four of Sidur's works were damaged by the group - some of them severely.
Sidur was a non-conformist, avant-garde artist in the Soviet Union in the 1950s and 60s. He was a disabled World War Two veteran and died in 1986.
The Manezh exhibition was called "Sculptures we cannot see" - referring to the fact that Sidur's works were censored by the Soviet authorities.
Plea for tolerance
The open letter said the actions of God's Will "violate the principle of tolerance - a principle fundamental to inter-faith co-existence between Russia's nationalities".
"We await punishment for the guilty perpetrators," the letter said.
It praised Sidur's art for its "tragic feeling", and rejected the claim that it mocked Christianity.
"Measures must be taken to prevent such extremist actions ever taking place again," it said.
The artistic directors who signed it included Marina Loshak of the Pushkin Museum, Zelfira Tregulova of the Tretyakov Gallery and Vasily Tsereteli of Moscow's Museum of Modern Art.
The God's Will website says the group stands for "the resurrection and development of Russia as an Orthodox Empire, worshipping God the Creator" and "for a Russia without homosexuals, abortions, drug addiction or alcoholism".