French National Front expels founder Jean-Marie Le Pen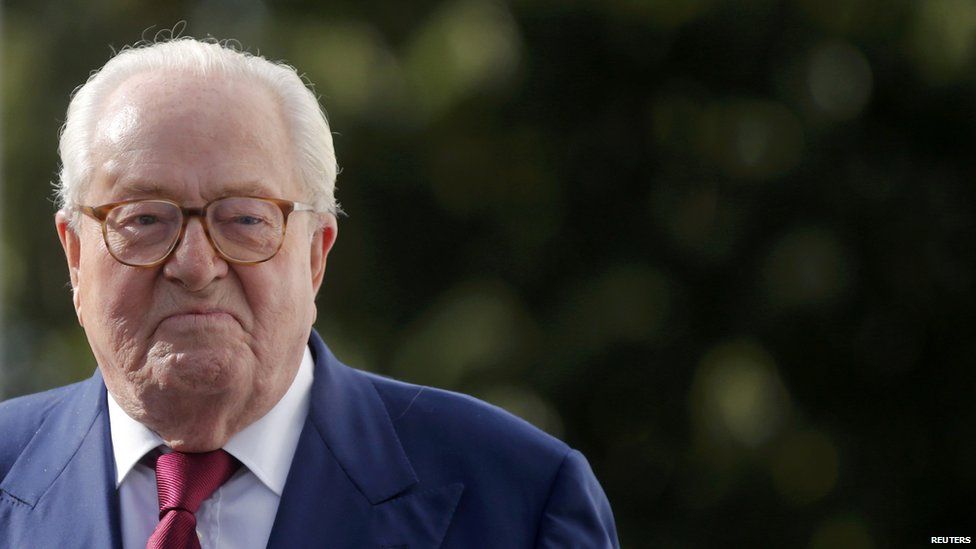 France's Jean-Marie Le Pen has been expelled from the far-right National Front (FN) following a feud with daughter and party leader Marine.
Mr Le Pen, who was honorary president, was dismissed after a three-hour extraordinary party congress.
He was initially suspended back in May, after he repeated his view that the Holocaust was "a detail of history".
Ms Le Pen took over as leader in 2011 and has tried to steer the party away from its racist and anti-Semitic past.
The National Front (FN) was founded by Mr Le Pen in 1972. The 86-year-old still holds a seat in the European Parliament and a post as a regional councillor in the south of France.
The judge ruled that the correct procedure had not been followed and ordered that an extraordinary general meeting (EGM) be held to discuss his future.
That meeting took place on Thursday, and Mr Le Pen has now been expelled.
His dismissal follows a series of remarks regarded as inflammatory and a feud with his daughter.
Earlier this year he restated his characterisation of the Holocaust as a "detail" - a view he first expressed in 1987 - and also said he had never considered France's wartime collaborationist leader Philippe Petain a traitor.
Ms Le Pen has said in the past that her father should "no longer be able to speak in the name of the National Front".
Jean-Marie Le Pen: A career in controversy
1987 - First makes his infamous remarks describing the Holocaust as a "detail of history"
1997 - Assaults rival Annette Peulvast-Bergeal during parliamentary election campaign
2006 - One of many convictions for inciting racial hatred over inflammatory remarks about France's Muslim population
2007 - Tells Le Monde newspaper "you can't dispute the inequality of the races"
2015 - Repeats views on the Holocaust, prompting Marine Le Pen to accuse him of trying to "rescue himself from obscurity"