Swiss airshow crash: Planes collide at Dittingen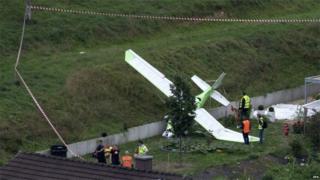 At least one person has been killed after two small planes collided in mid-air during an airshow in northern Switzerland, police say.
The accident occurred at 11:30 (09:30 GMT) at Dittingen, near Basel.
Swiss media say one of the pilots managed to escape by parachute.
The Swiss accident comes a day after 11 people died and several were injured when a military jet participating in an airshow in the UK crashed onto a busy road in the south of the country.