Greece vote set for 20 September as interim PM takes office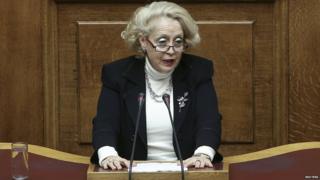 Greece's new caretaker government has been sworn in and snap elections confirmed for 20 September.
The country's top Supreme Court judge, Vassiliki Thanou, becomes caretaker prime minister - the country's first female PM.
Last week, Alex Tsipras resigned as leader to seek a new mandate for office.
He called a new vote after a rebellion by MPs in his party over the bailout he agreed with European creditors.
Mr Tsipras is expected to win the next election although it is unclear whether he will secure enough votes to form a majority government.
Earlier this week an opinion poll for Greece's Vergina TV suggested support for his Syriza party had declined to 24%, down from 34% in July.
New Democracy was in second with 22%, while the far-right Golden Dawn ranked third with 6%.
Popular Unity, which split from Syriza, was put on 4.5%.
---
Vassiliki Thanou
Appointed president of the Supreme Court in June, days before Greece's Yes/No referendum. She is the second woman to have held the role
Sent a letter to Jean-Claude Juncker, head of the European Commission, in February urging support for the new Syriza government's reform plans
Wrote an open letter during bailout talks in July expressing her belief that most Greeks wanted to remain in the eurozone
Criticised the leadership of then prime minister, Antonis Samaras, in October 2014, condemning his "totalitarian government"
---