Migrant crisis: Hundreds end journey at Munich station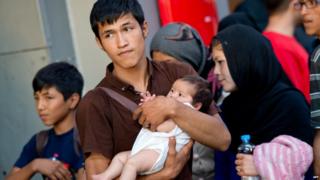 Trains carrying hundreds of migrants have arrived in the German city of Munich, after Hungary abandoned efforts to register them under EU rules.
Some 1,400 people had arrived in Munich by Tuesday morning, after travelling through Austria, and more were due.
Hungarian police have now closed a main station in Budapest in an attempt to bring the crisis under control.
The number of migrants entering Europe has reached record levels, with 107,500 arriving in July alone.
Outside Keleti (eastern) station in Budapest, around 1,000 migrants chanted "Germany, Germany", calling for the station to be reopened so that they could continue their journey.
Germany expects to take in 800,000 migrants this year - four times last year's total.
Many of the people who travelled to Munich had been waiting at Keleti station for days and boarded trains for Vienna on Monday, when police appeared to give up trying to process them. Reporters said they were mainly Syrians, Afghans and Eritreans.
Austrian authorities say 3,650 people arrived by train in Vienna on Monday. Most were aiming to travel on to Germany.
Under the EU's Dublin Regulation, asylum seekers must register in the first EU member state in which they arrive. However, the protocol has been widely abused, as many of those who reached Hungary first arrived in Greece, where they failed to claim asylum.
The Berlin government has already said it is suspending the Dublin rule for Syrians who have travelled to Germany.
Chancellor Angela Merkel on Monday called for greater EU co-operation on the issue and implicitly called for other countries to welcome more refugees.
"If Europe fails on the question of refugees, then it won't be the Europe we wished for," she said.
Amid a surge in the numbers of migrants flowing through Hungary, Austria has tried to introduce extra checks on road vehicles crossing the border.
The risks for migrants were highlighted last week by the deaths of 71 people, found in a lorry that had travelled to Austria from Budapest.
Most of the dead were thought to be Syrians fleeing the country's civil war.
An estimated 20,000 people rallied outside parliament in Vienna late on Monday demanding better rights for migrants.
As well as the bodies in the lorry in Austria, hundreds more people drowned in the Mediterranean last week while trying to reach Europe from Libya.
'No police, no problem'
The BBC's Bethany Bell in Vienna says Germany is the main destination for migrants arriving on the EU's eastern borders.
Among them is Khalil, 33, an English teacher from Kobane in Syria who was travelling with his wife and sick daughter through Austria to Hamburg.
"Thank God nobody asked for a passport," he told Reuters news agency. "No police, no problem."
Mrs Merkel's call for greater co-operation was echoed by French Prime Minister Manuel Valls, who warned that Europe's migrant crisis would be a "long and difficult challenge".
The UN says the continuing conflict in Syria is a major factor behind the rise in migrant numbers.
Greece, Italy and Hungary have particularly struggled with the surge of migrants from not only Syria but the rest of the Middle East and Africa.
An extraordinary meeting of EU interior ministers is to be held on 14 September.
Some governments have refused to take in refugees and resisted EU proposals to agree on a common plan.
Others are tightening their policies on asylum and border security, sometimes because of rising anti-immigration sentiment.
---
10 days of the migrant crisis
Why is EU struggling with migrants and asylum?
---
---
Have you made the journey to Vienna or elsewhere in Europe? Let us know about your experiences. Email haveyoursay@bbc.co.uk with your stories.
Please include a contact number if you are willing to speak to a BBC journalist. You can also contact us in the following ways: