A Coruna rally: Spain crash leaves six dead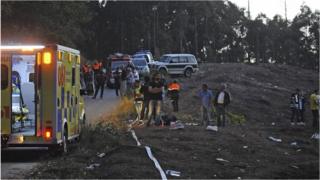 Six people, including a pregnant woman, have been killed after a car veered off the road during a car rally in north-western Spain.
Police said that 16 people had been injured, some critically, after the accident at the A Coruna car rally.
Television footage showed the car crashing off the road into spectators in a cloud of dust. Police said that the car had been going too fast.
Prime Minister Mariano Rajoy expressed his condolences on Twitter.
He said the rally had been "tinged with mourning".
"My heartfelt condolences for those killed. I wish the injured a full and speedy recovery," he added.
The accident happened at around 20:00 (18:00 GMT) on Saturday evening near the town of Carral in the province of Galicia.
Local media reported that the drivers were not among the injured.
The rally has been suspended. More than 140 people had been participating in the rally, El Pais newspaper reports.
The authorities in the region of Galicia are now investigating.
---