Europe migrant crisis: Germany readies for 40,000 arrivals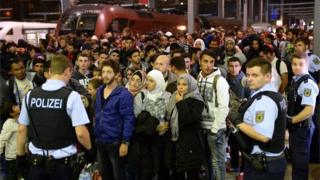 Some 40,000 migrants could arrive in Germany over the next two days, officials say - double the number who entered the country last weekend.
The southern city of Munich received another 3,600 on Saturday morning but there are concerns about how the region will cope with another large influx.
Around 4,000 troops are being deployed in Germany for logistical support.
Germany has become an attractive destination for Syrian refugees since it waived EU rules.
The government announced in August that it would deal with Syrian asylum applications regardless of where the migrants first arrived in the EU. Up until then, people had to claim asylum with the first EU country they reached.
Tens of thousands of mainly Syrian migrants have been making their way from Turkey, through the Balkans and Hungary to reach Austria, Germany and Sweden.
Migrants have continued to arrive in Macedonia from Greece. More buses were reported to be making their way towards the Hungarian border this weekend.
---
On the scene: James Reynolds, BBC News, Roszke, southern Hungary
Next to a set of old railway tracks, a long line of migrants and refugees queues for buses to take them to nearby registration camps, which I have not been able to visit.
A police officer calls families forward one by one. "Syria? Afghanistan? Pakistan?" the officer asks in English.
He notes their reply on a piece of paper and lets them board.
A translator stands by to help. At one point, she picks up a rake and clears rubbish from the road in front of the bus.
By contrast to the chaos and panic I witnessed at the same place on Friday night, the atmosphere is calm. The police are courteous and organised.
Volunteers walk along the line handing out sandwiches and bottles of water. The refugee families wait patiently in the sun.
---
Read more BBC coverage of the migrant crisis
Europe migrant crisis: Are you affected?
What next for Germany's asylum seekers?
What can the EU do to solve the crisis?
---
Munich Mayor Dieter Reiter appealed urgently for other German regions to do more to process and accommodate the new arrivals.
He described as "scandalous" the failure of other regions to provide more accommodation, according to state broadcaster ARD.
Reports suggest the government is considering new temporary powers to take control of unoccupied rental property to accommodate migrants.
A large processing hub is planned for northern Germany, on Lueneburg Heath. Trains would take migrants there directly from Austria.
---
Analysis: Damien McGuinness, BBC News, Berlin
Germany has been overwhelmed, not by refugees, but by an impressive wave of goodwill towards people fleeing war. Donations have flooded in, large numbers of volunteers have come forward and some Germans have even opened up their homes for migrants.
After years of nasty Nazi comparisons over Greece's debt crisis, many Germans are rather enjoying the sudden image boost as a beacon of humanitarian generosity.
But the mood could be shifting. Right-wing allies of Chancellor Angela Merkel have attacked her open-door policy, calling it "irresponsible" and "a political error."
And on Saturday, some commentators in mainstream papers are questioning whether Mrs Merkel's promise that Germany is able to shelter an unlimited number of migrants is really true.
The mainstream feeling remains impressively generous. But the fear is that if things get difficult, will there be a backlash?
---
Elsewhere in Europe:
a demonstration by the far-right in Hamburg was banned earlier this week but the main railway station was closed on Saturday after left-wing demonstrators attacked a train believed to be carrying neo-Nazis
the city also saw a peaceful demonstration in the city centre in support of tolerance and diversity
thousands of people across the continent took part in a "day of action" to welcome refugees - read more here
a handful of rival anti-migrant protests also took place
the Swiss Football League is to donate 500 Swiss francs ($513, £334) for each goal scored this weekend towards refugee charities
The crisis has exposed deep divisions within the European Union. The European Commission announced plans for obligatory quotas to share out 120,000 additional asylum seekers among 25 member countries.
The Czech Republic, Hungary, Poland and Slovakia oppose being forced to take in new arrivals.
Hungary, which has struggled to cope with some 150,000 migrants who have crossed its borders so far this year, has been criticised over how it treats them.
Austrian Chancellor Werner Faymann, in an interview with Der Spiegel (in German), strongly condemned a decision to place migrants on a train after leading them to believe they were heading for the Austrian border when they were in fact destined for a processing camp in Hungary.
"Putting refugees on trains in the belief that they are going somewhere totally different awakens memories of our continent's darkest time,'' he was quoted as saying - comments seen as a reference to the Nazis' treatment of Jews.
Hungary has protested, summoning the Austrian ambassador to the foreign ministry. Hungary dismissed the Austrian chancellor's comments as "utterly unworthy of a 21st Century European leader".
Hungarian Prime Minister Viktor Orban has called on the European Union to give Syria's neighbours €3bn (£2.2bn; $3.4bn) in financial aid to help those displaced by the civil war.
Mr Orban said supporting Turkey, Lebanon and Jordan with such a package would end the mass migration to Europe.
---
---
A note on terminology: The BBC uses the term migrant to refer to all people on the move who have yet to complete the legal process of claiming asylum. This group includes people fleeing war-torn countries such as Syria, who are likely to be granted refugee status, as well as people who are seeking jobs and better lives, who governments are likely to rule are economic migrants.