Pro-migrant rallies in Europe and Australia draw thousands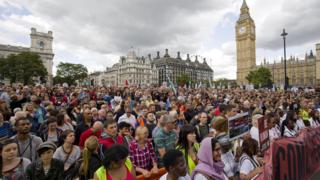 Tens of thousands of people have taken part in a "day of action" in several European cities - and in Australia - in support of refugees and migrants.
There have also been counter-demonstrations in some countries.
Europe is struggling to cope with an enormous influx of people, mostly from Syria, who are fleeing violence and poverty in their own countries.
In London, protesters called on Prime Minister David Cameron to accept more refugees.
Tens of thousands of people including civil liberties campaigners, politicians and musicians gathered at Hyde Park Corner carrying placards that read: "Open the Borders" and "Refugees In". They then marched towards the prime ministerial residence in Downing Street.
There were similar demonstrations in other UK cities.
The British government has said it will take up to 20,000 refugees over five years, but from camps in the Middle East rather than those arriving in Europe.
In the Swedish capital Stockholm, about 1,000 people joined a rally, appealing for more generous support for refugees.
"Sweden can do much more, not only because it has the capacity to do so, but also because it, along with the European Union, bears some responsibility for the conflict in Syria," said demonstrator Joakim, 38, who took part with his two children.
Sweden has been one of the most popular destinations for migrants, along with Austria and Germany.
An estimated 30,000 people rallied gathered outside parliament in the Danish capital Copenhagen, chanting "Say it loud and say it clear, refugees are welcome here".
Mohammed Harra, who was born in Morocco, told Denmark's Politiken newspaper: "I am here to support refugees who have been driven out of their houses because of what has happened in Syria, with the bombings and the killings."
A smaller rally of about 400 people took place in Padborg, on the German border, where many refugees have passed through. A counter-demonstration in the same village calling for borders to be closed attracted about 150 people.
Several rallies were taking place in France, in Nice, Metz, Lyon and Avignon. A silent rally in support of refugees was also held in The Hague, in the Netherlands.
In Hamburg, a demonstration by the far-right was banned earlier this week but the main railway station was closed on Saturday after left-wing demonstrators attacked a train believed to be carrying neo-Nazis.
Several thousand people joined a peaceful demonstration in the city centre in support of tolerance and diversity.
In the Australian city of Sydney, demonstrators gathered in solidarity with the European marches, demanding greater action from the Australian government for refugees in Europe and those closer to home.
At least 5,000 people were expected to attend a candlelit vigil in the German capital Berlin, while another 6,000 people rallied in support of refugees in Vienna, Austria.
However, rallies against welcoming more refugees and migrants took place in some eastern European countries.
About 5,000 people chanting anti-Islamic slogans marched in the Polish capital Warsaw, while a nearby counter-demonstration drew about 1,000 people.
In the Czech capital Prague, protesters carried banners reading "I do not want refugees and Islam in Czech Republic" and "Get out of EU is the solution".
A similar rally was held in the Slovakian capital Bratislava.