Vuelta a Espana: Stolen €12,000 bike 'on sale for €120'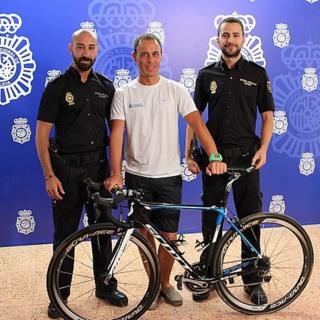 A stolen bicycle worth €12,000 (£8,800; $13,600) has been recovered from a secondhand shop in the Spanish city of Malaga, where it was offered for sale at 1/100th of its value - €120.
Police were inspecting the shop for suspected stolen goods when they spotted the bicycle's "exceptional technical characteristics".
It belonged to a rider competing in the Vuelta a Espana race around Spain.
The bicycle was returned to its owner on Sunday, the final day of the race.
The bicycle belonged to an unnamed rider for the Australian team, Orica Greenedge.
A police statement (in Spanish) said the team had not yet had time to lodge a complaint for theft.
A Malaga resident "with a long police record" had sold the bicycle to the shop, the statement said.
"We are going to offer a jersey with stripes on to the person who stole the Orica Greenedge bike,'' police said on their official Twitter account (in Spanish). "His race ends in jail."
The Vuelta arrived in Malaga on 24 August, on the third stage of the three-week race. It finishes in the capital, Madrid, on Sunday.