Same-sex marriage: First Irish ceremonies expected within months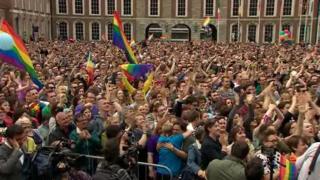 The first same-sex marriages in the Republic of Ireland are expected within months after cabinet ministers were given details of the new legislation.
It follows an historic referendum in May, when 62% of the electorate voted in favour of introducing gay marriage.
Irish Justice Minister Frances Fitzgerald brought the Marriage Bill before ministers on Wednesday morning.
Her spokesman told the BBC the minister hoped the first ceremonies would take place "before the end of this year".
However, he would not be drawn on speculation that gay or lesbian couples could marry as early as next month, because the legislation still has to pass through the Irish parliament (Dáil).
"The first same-sex marriages will be those of couples who convert a notification of their intention to register a civil partnership into a notification of their intention to marry," the Department of Justice spokesman said.
"The aim is to have the Bill enacted as quickly as possible, subject to the legislative process, so that the first same-sex marriages can take place this year."
Under the current rules, heterosexual couples must give at least three months notification to a registry office before the intended date of their civil marriage and same-sex couples must also give three months notice before they can register a civil partnership.
The Republic of Ireland was the first country in the world to legalise same-sex marriage through a popular vote.
The referendum was held 22 years after homosexual acts were decriminalised by the state.