Thomas Kent: State funeral in Cork for 1916 rebel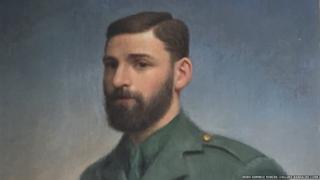 A state funeral for Thomas Kent, who was executed following the 1916 Easter rising, will be held in the Republic of Ireland later.
Kent was one of 16 men executed in the aftermath of the rising, and one of only two executed outside Dublin.
The funeral will take place in the County Cork village where he lived.
The Easter Rising saw rebels take over a number of buildings in Dublin as part of a nationalist uprising against British rule.
It began on 24 April 1916, but ended after six days of fighting and most of its leaders were executed.
Honour
Kent was a prominent organiser of the Irish Volunteers, a military organisation established in 1913 by Irish nationalists.
He was arrested after an incident at his home in which a Royal Irish Constabulary officer was killed and Thomas's brother Richard was fatally injured.
Irish Prime Minister Enda Kenny said: "The government is very glad to offer the honour of a state funeral in memory of the sacrifice of the late Thomas Kent.
"[He] was one of many young men who, in pursuit of the goal of Irish freedom, paid the ultimate sacrifice."
Kent's remains were exhumed from Cork prison in June.
Grateful
They will leave Collins Barracks in Dublin at 12:00 local time with full military accompaniment to Cork prison for the formal removal service.
There will be a short private service inside, to which there will be no public access.
The cortege will then depart for St Nicholas' Church in Castlelyons at 12:45.
Members of Kent's extended family have said they are "grateful" a state funeral has been offered and that a conclusion has been reached as to where his remains have been for almost 100 years.
Michael Riordan, his grandnephew, said it was a sad time for the family but added they were "happy he will finally come home to the family grave".
The other one of the 16 men to be executed outside Dublin was Roger Casement, who was hanged in London.