Woman, 91, charged over 'role' in 260,000 Auschwitz deaths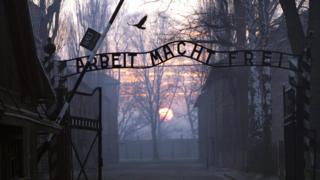 A 91-year-old woman alleged to have worked at the Nazi death camp at Auschwitz has been charged with 260,000 counts of accessory to murder, German prosecutors say.
A spokesman said the former SS member is accused of serving as a radio operator for the camp commandant.
It is argued she can be charged because she helped the death camp function.
A former Nazi SS sergeant at Auschwitz, Oskar Groening, was convicted on that reasoning in July.
A spokesman for prosecutors in the state of Schleswig-Holstein said on Monday there was no indication the woman was unfit for trial. It's thought a decision on whether to proceed with the case will be made next year.
Separately, on Friday a court in western Germany said it was waiting to hear if a 93-year-old former Auschwitz guard was fit enough to stand trial.
The man, identified in media reports as Reinhold Hanning, is accused of serving at Auschwitz between 1942 and 1944.
He denies 170,000 charges of accessory to murder and says he was assigned to a part of the camp that was not involved in the mass murders.
A spokeswoman for the court in Detmold said it could be several weeks before the health assessment is delivered. Mr Hanning's lawyer says he is not well enough to face trial.
Accessory role
Meanwhile, the court in Lueneburg that convicted Groening, 94, on Monday published its written judgement (in German).
Groening - who became known as the "bookkeeper of Auschwitz" for counting banknotes confiscated from prisoners - was sentenced to four years in prison after being convicted of 300,000 counts of accessory to murder.
The court broke away from the decades-old practice of requiring that former SS members be proven to have committed at least one crime before they can be convicted.
The judgement argues that "all the defendant's activity in Auschwitz was characterised by the fact that it supported multiple murders, without providing support to specific individual acts".
Lawyers argued that the presence of Groening and other SS members on an arrival ramp at Auschwitz meant he was guilty of an accessory role because it created a threatening impression. His role in taking care of prisoners' luggage deceived them that they would get their belongings back.
In 2005 Groening admitted in a BBC documentary that he had been present on the ramp when selections for the gas chambers took place.
The court in Lueneburg has given Groening's defence team a month to appeal its judgement. Should the judgement come into force, an assessment will be made as to whether Groening is in a fit state to be jailed.