Putin praises anti-extremism efforts as Moscow mosque reopens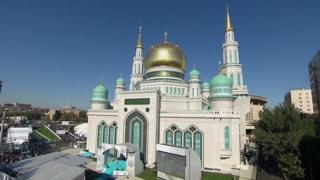 Moscow's biggest mosque has reopened, with President Putin as well as the Turkish and Palestinian leaders in attendance.
The Jum'ah mosque was demolished four years ago and has been rebuilt to accommodate 10,000 worshippers.
It is one of three large mosques in Russia, along with those in the republics of Chechnya and Dagestan.
Mr Putin said it would be a centre of spirituality and education that would unite people of different faiths.
He praised Muslim leaders in Russia for showing "zero tolerance" towards extremists, who he said peddle propaganda that had nothing to do with true Islam and were seeking to recruit followers in Russia.
"Russia's Muslim community dates back centuries and has made an enormous contribution to Russian history," Mr Putin said. "Its humanist values, like those of other religions, teach justice, mercy and caring for one's loved ones."
The new building stands on the site of Moscow's original mosque, which dated back to 1904. Construction was entirely funded by donors, according to Russian news agencies, with Palestinian President Abbas giving $25,000 (£16,000) and Dagestan-born billionaire Suleiman Kerimov providing $100 million.
However, it is one of only six mosques in the Russian capital, which local media say has a Muslim population of about two million, including around 200,000 practising Muslims, many of whom are forced to pray on the street during religious festivals.
Local Muslim leaders are reportedly in talks with Moscow authorities to build another large mosque in the city. Plans for a mosque in one neighbourhood were dropped three years ago after protests by residents.