Fifa corruption probe: Swiss to extradite Venezuelan Esquivel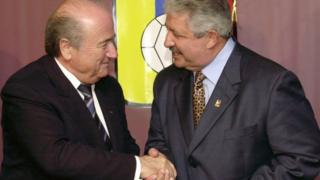 Swiss judicial authorities have approved the extradition to the United States of Venezuelan football official Rafael Esquivel.
The extradition is part of a probe into corruption at football's world governing body, Fifa.
Mr Esquivel is the former president of the Venezuelan Football Federation.
He was among seven arrested in May in Zurich ahead of Fifa's presidential election. A total of 14 have been indicted on US corruption charges.
Nine of them were Fifa officials and five corporate executives.
Mr Esquivel is accused of receiving bribes worth millions of dollars in connection with the sale of marketing rights to the Copa America tournaments in 2007, 2015, 2016, 2019 and 2023. He could face 20 years in prison if found guilty.
Mr Esquivel, who is also a member of the executive committee of the South American Football Confederation, has 30 days to appeal against the extradition decision.
Spanish-born, he moved to Venezuela when he was just four and started his career as a football official in 1972. Venezuelan players have described him as someone who is "pushy with a strong personality".
---
Who are the indicted officials?
Fifa in crisis - Special Reports
What's in the Fifa indictment?
---
Fifa former vice-president Jeffrey Webb agreed in July to be extradited to New York. He appeared in court there and was placed under house arrest on bail.
Last week, Switzerland backed the extradition of former Fifa vice-president, Uruguayan Eugenio Figueredo, who has said he will appeal against the ruling.
On Monday, US extradition proceedings against Jack Warner, a third former Fifa vice-president, were approved by Trinidad's attorney general.
The arrests in May shocked world football.
Incumbent Fifa president Sepp Blatter went ahead with the election and again won, but then quickly announced he was stepping down and another election is due in February. Mr Blatter has not been indicted.