Migrant crisis: Germany boosts funding to regional states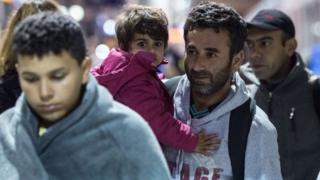 Germany's federal government has pledged €4bn (£3bn; $4.5bn) to its regional states, double the current levels of funding, to help them cope with a record migrant influx.
Berlin also said it would pay €670 per month for every asylum seeker taken in.
Chancellor Angela Merkel spoke after her talks with 16 state governors.
She said Albania, Kosovo and Montenegro would be declared "safe countries of origin" to reduce the stream of people coming from there to Germany.
About half a million migrants - mostly from conflict-torn countries in the Middle East and North Africa - have arrived in Europe this year, exposing deep divisions within the EU.
The EU this week agreed to resettle about 120,000 migrants across Europe.
'First step'
During Thursday's talks in Berlin it was agreed that the federal government would increase its financial assistance to states from €2bn this year to some €4bn in 2016.
Officials said the money would help provide social housing and care for unaccompanied young asylum seekers.
It was also reported that the federal government wanted to replace the "pocket money" approach with a system of benefits.
Mrs Merkel also vowed to speed up asylum procedures in Germany, as the country struggles to accommodate hundreds of thousands of new arrivals.
And she warned that the migrant crisis would not be solved imminently, and its handling would shape Europe in the long term.
Referring to the EU deal to resettle migrants - most whom first arrive in Greece or Italy - she said: "I am deeply convinced that what Europe needs is not just selective relocation [of migrants], but a permanent process for fairly distributing refugees among member states.
"A first step has been taken, but we are still far from where we should be."
---
What the EU leaders agreed
At least €1bn (£700m, $1.1bn) extra will be donated to the UN refugee agency and the World Food programme
More help for Lebanon, Jordan, Turkey and other countries
Greater co-operation and dialogue with Turkey
Assistance for Balkan states, who have become a major route for migrants travelling north
Strengthened border controls, including more funding for border security forces
Further summit scheduled for October. Talks to include Turkish President Recep Tayyip Erdogan
The official statement from the meeting
How is migrant crisis dividing EU?
EU migration: Crisis in graphics
Serbia compares Croatia to 'WW2 fascists'
---
Chancellor Merkel also said the EU needed help from outside the bloc, calling for the support "of our transatlantic partners, the United States, as well as with Russia and the states of the region of the Middle East".
Border row
The flow has continued unabated, with Hungary recording a record number on Wednesday - 9,939 entering from Croatia and 102 from Serbia.
It was Hungary's introduction of tough new laws on its border with Serbia last week that led to thousands of migrants diverting to Croatia.
This has led to increased tension between Serbia and Croatia. Serbia has banned Croatian cargo traffic and Croatia in return has now banned Serbian-registered vehicles.
Croatia said reports that individual Serbian citizens had also been barred from entering Croatia were incorrect, saying there had only been "a problem with passports".
But Serbia condemned Croatia, saying its border restrictions were "comparable only to those of the World War Two fascist regime".
Hungary has erected a razor-wire fence on its borders with Serbia, and is building two more along its Croatian and Slovenian borders.
A note on terminology: The BBC uses the term migrant to refer to all people on the move who have yet to complete the legal process of claiming asylum. This group includes people fleeing war-torn countries such as Syria, who are likely to be granted refugee status, as well as people who are seeking jobs and better lives, who governments are likely to rule are economic migrants.
---
Are you in an area affected by the route of migration? Let us know about your experiences. Email haveyoursay@bbc.co.uk with your stories.
Please include a contact number if you are willing to speak to a BBC journalist. You can also contact us in the following ways: