Germany quells migrant mass brawl at camp in Calden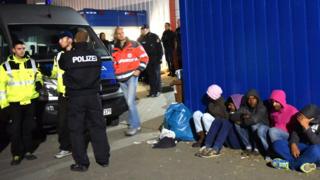 A mass brawl has erupted at a tented camp for migrants in Germany, with Albanians and Pakistanis fighting each other with sticks and irritant sprays.
It took police several hours to quell the violence between some 400 migrants at Calden, near Kassel in central Germany, German media report.
Fourteen people were injured, three of them police officers. It began with an argument in the camp's canteen.
Meanwhile the anti-immigration Freedom Party has surged in polls in Austria.
Asylum claim tension
The violence at Calden, in the German state of Hesse, left some migrants shivering in the cold outside the camp until they could be moved back in late on Sunday.
But one migrant group was moved out to separate accommodation.
It is not yet clear what type of irritant gas was used in the fighting.
The camp is estimated to have 1,500 migrants from 20 countries, including Syria.
Tensions have arisen there and elsewhere over the way asylum claims are handled, as Syrians and Iraqis are usually prioritised for refugee status.
Last month a mass brawl also erupted at a migrant hostel at Suhl in eastern Germany, after an Afghan tore pages out of a Koran.
Several German politicians have argued that different ethnic groups should be housed in separate migrant accommodation.
Migrant hostels have also been targeted by anti-immigration nationalists. Fires have swept through several hostels - often buildings not yet occupied by migrants - in suspected arson attacks.
Migrant influx
Meanwhile, the far-right Freedom Party (FPO) won 30.4% of the vote in Upper Austria, coming second behind the conservative Austrian People's Party (OVP) on 36.4%.
Upper Austria, an industrial region, is Austria's fourth-largest state. The FPO doubled its vote tally compared with the 2009 state election, while the OVP dropped by 10%.
The centre-left Social Democrats (SPO) lost about 6%, finishing third.
At national level Austria has been ruled by conservative-social democrat coalitions since World War Two.
But opinion polls suggest that the migrant crisis has greatly boosted support for the FPO.
This summer Austria has struggled to cope with tens of thousands of non-EU migrants entering from Hungary. Many of them are Syrian, Iraqi and Afghan refugees hoping to get asylum in Germany.
Germany expects at least 800,000 asylum seekers this year - about four times the 2014 figure. It has by far the largest number of claimants in Europe.