Seamus Heaney: Works by late poet to go on display in Dublin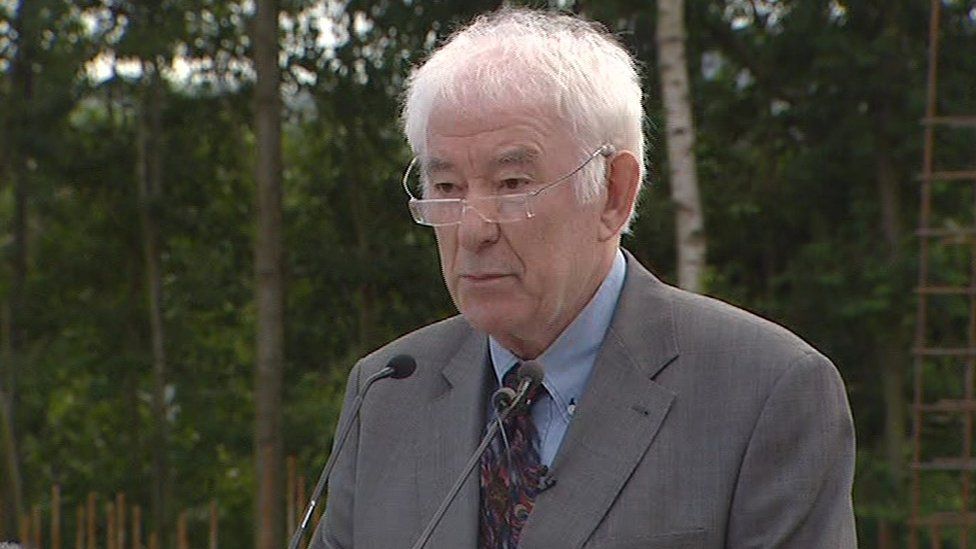 Unpublished works, diaries and letters by the late Nobel laureate Seamus Heaney will be on display at a new exhibition in Dublin.
Heaney died in August 2013, aged 74.
The show, which is expected to run for several years, will be staged in a new cultural centre in one of Dublin's most recognisable landmarks.
The Bank of Ireland, on College Green, was formerly the Irish houses of parliament.
The poet's son, Mick Heaney, said his family were delighted at the new exhibition which has been organised by the National Library of Ireland (NLI).
"He was extremely happy that his papers found a home at the National Library and our family is honoured at the prospect of this exhibition and the opportunity for a wider audience to enjoy and engage with his archive," he said.
The poet's extensive literary archive was donated to the NLI in 2011, two years before his death.
Original manuscripts as well as letters, unpublished works, diary entries, photographs, broadsides and multi-media recordings will also feature.
Irish Arts Minister Heather Humphreys said: "I am delighted that the first exhibition to be housed in the new centre will focus on the life and work of Seamus Heaney, who was arguably the greatest poet of his generation.
"It will offer an unparalleled opportunity to remember and honour the Nobel Prize winning poet."
The exhibition will open in 2017.
Earlier this month, it was announced that plans to build a new arts centre as a tribute to the late poet had received almost £1m in public funding from Stormont.
The Seamus Heaney Arts and Literary Centre is to be built in the Nobel laureate's home village of Bellaghy, County Londonderry.