Migrant crisis: EU Frontex force to help speed up deportations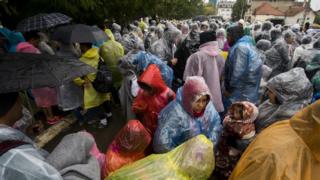 The EU has agreed to beef up its border force Frontex in order to speed up deportations of failed asylum seekers.
The EU interior ministers also called for more effective re-admission deals with countries of origin outside the EU, so that more migrants go home.
The conclusions from their talks said EU states should detain migrants who may abscond before they are deported.
More than 550,000 migrants have reached the EU this year, many of them war refugees. Germany is hosting the most.
Most refugees qualify for asylum under international law. EU countries generally grant asylum to Syrians, Iraqis and Eritreans, but not to the many economic migrants from Africa and Asia.
Last year more than half a million non-EU migrants were found to be "illegally present" in the 28-nation bloc. Most were ordered to leave, but EU countries deported only about 40% of those listed for removal.
"Frontex should be allocated adequate resources to enable it to scale up substantially its support on return [of migrants]," EU ministers agreed.
---
Analysis - by BBC Europe correspondent Chris Morris in Luxembourg
European governments are talking a lot about increasing the rate of deportations - or returns, as they like to call them. But talking about it and doing it are rather different things.
Part of the problem is that returns policy is really the responsibility of individual member states. And some are better at it than others. Many countries find it easier to allow failed asylum seekers to travel elsewhere in the Schengen area, where they then live illegally.
That's why this ministerial meeting is insisting that everyone needs to work together far more effectively.
There are some joint return schemes, consisting of flights financed by Frontex. But so far this year only 2,525 people have been sent back to their countries of origin in this way - a tiny number given the scale of the crisis.
The easiest way to increase the overall number of returns significantly would be for Germany to take a tougher line with migrants who've arrived from places like Serbia, Kosovo and Albania.
In the first six months of this year 40% of all asylum applications in Germany were made by people from the Western Balkans. Nearly all of them will be rejected.
Europe migrant crisis - in depth
Europe set to start seizing smugglers
Merkel-Hollande plea for European unity
---
New 'hotspots'
The EU is setting up "hotspots" in Italy and Greece - new migrant registration centres, so that new arrivals can be filtered and priority given to refugees in need of international protection.
But the pressure is so great on Italy and Greece that 120,000 refugees are to be relocated EU-wide from those countries, starting on Friday.
The EU Commissioner for Migration, Dimitris Avramopoulos, said "the first relocation plane of Eritreans is taking off tomorrow from Italy to Sweden - this means that they have been registered, fingerprinted, identified and screened for relocation".
Mr Avramopoulos said the first EU hotspot in Italy "is operational already in Lampedusa". For more than a year the tiny island near North Africa has struggled to cope with the influx of migrants.
Hundreds of migrants have drowned off Lampedusa, after crowding on to rickety boats that set sail from Libya.
Speaking after a first round of talks on Thursday, the commissioner said about 10 flights would take failed asylum seekers home this month from across Europe, and he called it "good, but not enough".
Going into the Luxembourg meeting, UK Home Secretary Theresa May said "we need to crack down on those who are abusing our asylum system.
"The UK has a good record in this area, but on returns [of migrants] we need to see Europe upping its game, and we stand ready to support that."
The European Commission has put forward an "action plan" on migrant returns, which calls on member states to "use detention, as a legitimate measure of last resort", to help prevent irregular migrants moving elsewhere in the EU.
Many EU politicians are under domestic pressure to expel more migrants, amid a nationalist backlash across Europe.
In the eastern German city of Erfurt about 8,000 people protested against Chancellor Angela Merkel's welcome for refugees - a record number for that city. The rally was organised by the conservative Alternative for Germany (AfD) party
In Finland arsonists tried to set fire to a migrant reception centre in the southern town of Lammi.
Focus on Balkans
EU foreign ministers and officials from Turkey, Jordan, Lebanon and the Balkan states were joining the Luxembourg talks to discuss ways to stem the flow of migrants.
Tensions boiled over between Balkan neighbours this summer because of the numbers heading north, hoping for asylum in the EU. The Syria war has fuelled the influx.
Turkey, Jordan, Lebanon and Iraq are hosting nearly four million Syrians - mostly in very basic conditions, and far more than the numbers reaching Europe.
German Interior Minister Thomas de Maiziere told reporters on Thursday that "the important thing today is to improve the EU's external border protection".
Germany and Austria say they will send asylum specialists to help Italy and Greece.
Frontex is to be given a more direct role in screening migrants and helping member states to deport failed asylum seekers.
The EU is however bound by the "non-refoulement" rule, meaning that under international law it cannot send migrants back to life-threatening situations.