Protesters call for Montenegro PM to step down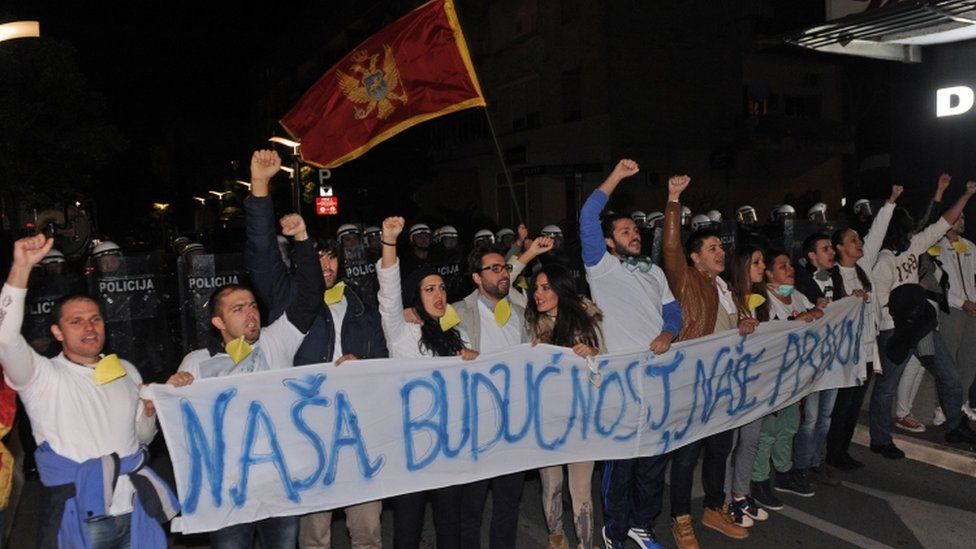 Police in Montenegro have fired tear gas to disperse several thousand demonstrators demanding the resignation of Prime Minister Milo Djukanovic.
Protesters in the capital, Podgorica, chanted "Milo, thief!" and demanded fair elections organised by a transitional government.
Some threw flares and fireworks at police guarding parliament.
Fifteen policemen were injured and 24 protesters sought treatment after being teargassed, the interior minister said.
A leader of the Democratic Front opposition group, Andrija Mandic, was been questioned by police after the rally, along with another protest leader, Slaven Radunovic.
Mr Djukanovic has been in power for much of the past two decades, after holding prominent positions in the republic from the early 1990s when it was part of the former Yugoslavia.
In 2012, he won elections and became prime minister for the third time since Montenegro became independent after splitting from neighbouring Serbia in 2006.
"More than 25 years in power would be too much even if he was Mahatma Gandhi and not this thief," Raso, a 30-year old protester, told the AFP news agency.
Montenegro's government hopes to be invited to join the Nato in December, but many Montenegrins with historic ties to Russia are opposed to this.
Elections are scheduled for early 2016.