EU car emissions: Tough new tests backed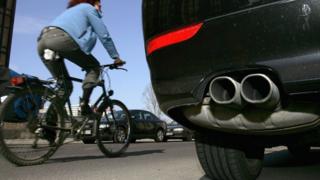 The European Union has adopted tougher emissions tests for new models of cars, which it says will better reflect ordinary driving conditions.
Many cars on the road emit up to four times more pollutants than the technical limit. The new rules aim to start reducing this margin from 2017.
But critics say the tests are not strict enough, as car makers will still be allowed to exceed emissions limits.
The move comes as car giant Volkswagen faces a scandal over falsifying tests.
The German manufacturer has recalled millions of cars after the discovery of engine software that could cheat diesel emissions tests.
Diesel vehicles are a major source of nitrogen dioxide, which has been linked to respiratory diseases and premature death.
'Robust testing'
Under the rules approved on Wednesday by the EU's executive body, the European Commission, new car models sold after 1 September 2017 will have to pass Real Driving Emissions (RDE) tests.
RDE tests are intended to better reflect ordinary driving conditions.
Car makers can currently legally cut corners on emissions tests by using so-called "golden vehicles", which are equipped to do well in tests.
As a result, emissions during driving can currently exceed the technical limit by up to 400%.
New car models sold after September 2017 will not be allowed to exceed nitrogen oxide emission levels by more than twice the technical limit.
Car makers will have until 2019 to limit the emissions on all new vehicles to that level.
By 2020, the emissions from all new models must not be greater than 1.5 times the technical limit. The same rule will apply to all new vehicle from 2021.
"The EU is the first and only region in the world to mandate these robust testing methods," EU Commissioner Elzbieta Bienkowska said.
But the EU has been criticised for not imposing strict enough tests, and for giving car makers too much time to cut emissions.
"Allowing car manufacturers to completely disregard car standards for another five years is terrible news for our environment and for consumer trust in European car brands," said Gerben-Jan Gerbrandy, European Parliament member for the liberal ALDE group, in comments quoted by the Associated Press news agency.