China signs deal to buy 130 Airbus aircraft during Merkel visit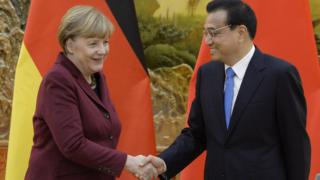 China has signed a $17bn (€15.5bn; £11bn) contract to buy 130 aircraft from the European aerospace consortium Airbus.
The deal was announced after a meeting between German Chancellor Angela Merkel and Chinese Premier Li Keqiang in Beijing.
The contract includes 30 wide-body A330s and 100 narrow-body A320s.
Earlier this year, Airbus agreed to build a new assembly facility in China's northern port of Tianjin.
The company is engaged in a battle with US-based Boeing for dominance in the growing Chinese market.
"We are grateful to CAS [China Aviation Supplies], one of our longest standing customers, for its continued confidence in Airbus and in the versatile A330 Family as well as the best-selling A320 Family," said Airbus president Fabrice Bregier in a statement.
In August, Boeing said China was expected to add 6,330 new aircraft to its commercial fleet by 2034.
Airbus has headquarters in Germany and France.