Croatia election: Opposition HDZ conservatives claim victory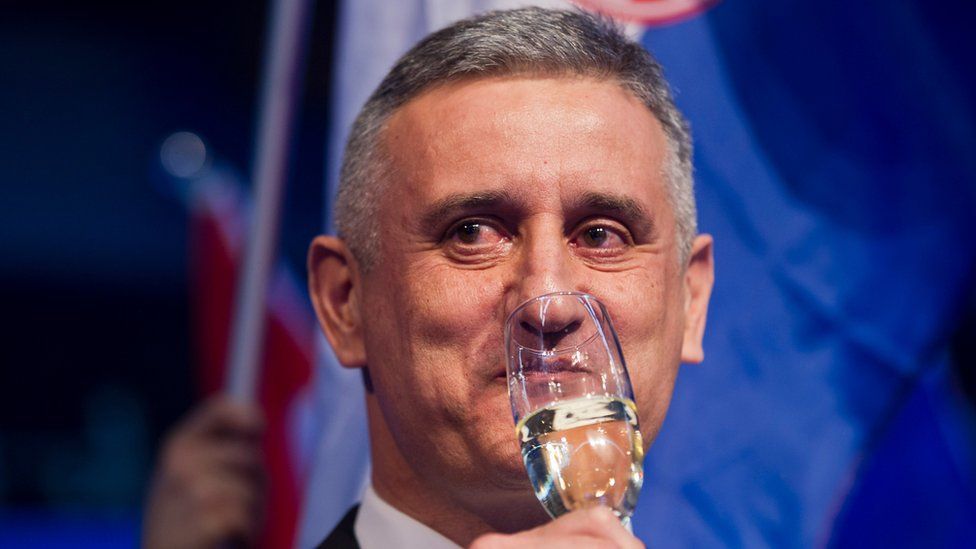 Croatia's conservative opposition has declared victory in parliamentary elections, but faces a challenge to form a government.
Results show the centre-right coalition, led by the HDZ, won 59 seats while the ruling alliance, led by the Social Democrats, won 56.
Both are well short of the 76 needed for a parliamentary majority.
It was Croatia's first general election since joining the European Union two years ago.
The migration crisis was one of the main issues. More than 320,000 migrants have passed through Croatia this year.
"The victory brought us responsibility to lead our country, which is in a difficult situation," HDZ leader Tomislav Karamarko told supporters.
"Whoever wants to fight with us for the quality of life in Croatia is welcome."
A new, third group in the election - an alliance of independent candidates known as Most (Bridge) - emerged as a powerful force in the election, winning 19 seats.
Most said before the vote it would not join either main coalition, reports the BBC's Guy De Launey in Croatia's capital Zagreb.
However leading Most figure Drago Prgomet said on Monday it was ready for discussions, and that the group would "decide who will be the next prime minister".
The success of Most shows that many Croatians are disenchanted with the traditional political parties, which have failed to address the country's deep-rooted economic problems, our correspondent says.
Croatia's two main alliances have promised different approaches on how to handle the arrival of more refugees and migrants.
The country has become a transit hub for migrants, many from Syria, Afghanistan and Iraq, who want to travel north.
Interior Minister Ranko Ostojic says the cost of managing the arrivals has been close to 2m kuna (£189,000; $284,000) a day.
Numbers increased when Hungary shut its border with Serbia, forcing more people to seek an alternative route north through Croatia.
Croatian Prime Minister Zoran Milanovic and his Social Democrats (SDP) won approval for their compassionate handling of the refugee crisis.
Whereas Mr Karamarko has suggested using troops and fences to reduce the number of arrivals.
As well as the migrant crisis, Croatia's next government will be faced with a weak economy:
unemployment is at 15.4% - the third-highest in the European Union, after Greece and Spain
youth unemployment is at 43.1% - also the third-highest in the EU
the country has suffered six years of recession, but has seen little growth this year