Migrant crisis: Slovenia to put up 'temporary technical obstacles'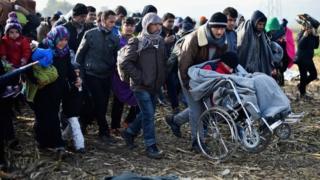 Slovenia has said it will put up "temporary technical obstacles" on its border with Croatia to control the growing flow of migrants.
Prime Minister Miro Cerar said this could include fences "if needed", but stressed border crossings would remain open.
More than 170,000 migrants have crossed into Slovenia since October, when Hungary closed its border with Croatia.
Some 30,000 more are expected in Slovenia over the next few days.
The UN estimates more than 700,000 migrants - fleeing wars and conflicts in the Middle East and north Africa - have arrived in Europe this year.
Many are trying to reach Germany, crossing in the process the Balkan nations, Slovenia and Hungary.
'Humanitarian disaster'
"We decided yesterday (Monday) to start building over the following days on... the border with Croatia some temporary technical obstacles", Mr Cerar told reporters in the capital Ljubljana on Tuesday.
"These obstacles, including fences if needed, will have the objective of directing migrants towards the border crossings. We are not closing our borders."
Mr Cerar stressed that the measures were aimed at avoiding a "humanitarian disaster" ahead of an expected big rise in migrant numbers in the country.
Hungary has already fenced off its border with Croatia and Serbia, effectively redirecting many migrants to Slovenia.
Last month, Austria said it was planning to build a fence at the main border crossing used by migrants entering the country from Slovenia.
With the population of about two million, Slovenia is the smallest country on the Balkan migration route.
Slovenia - which is a member of the European Union and also the border-free Schengen zone - has been struggling to deal with the growing numbers of migrants arriving in the last few months.
A note on terminology: The BBC uses the term migrant to refer to all people on the move who have yet to complete the legal process of claiming asylum. This group includes people fleeing war-torn countries such as Syria, who are likely to be granted refugee status, as well as people who are seeking jobs and better lives, who governments are likely to rule are economic migrants.