Paris attacks: French seek to identify raid bodies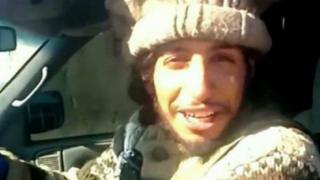 French experts are working to establish whether the suspected ringleader of the Paris attacks was among those killed in a police raid on a flat on Wednesday.
Police said Abdelhamid Abaaoud was the target when officers stormed the flat in the Paris suburb of Saint Denis.
The Paris prosecutor said neither he nor suspect Salah Abdeslam were among eight people arrested, but at least two bodies had still to be identified.
Meanwhile, French MPs are due to vote on extending a state of emergency.
Militant group Islamic State (IS), which controls parts of Syria and Iraq, has said it was behind the attacks last Friday, when gunmen and suicide bombers killed 129 people and injured hundreds.
The Washington Post quoted unnamed European officials as saying Abaaoud, 27, had been killed on Wednesday when heavily armed police stormed the building in the suburb of Saint Denis.
However, Paris prosecutor Francois Molins had earlier said he could not give "a precise and definitive number for the people who died, nor their identities, but there are at least two dead people".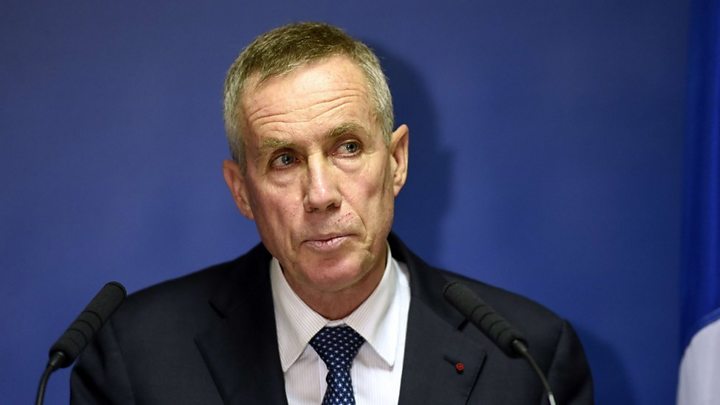 One of the dead was a woman believed to have detonated a suicide belt as police moved in. A source close to the investigation said she could have been a cousin of Abaaoud, Reuters reported.
Mr Molins said it appeared that a "new team of terrorists" had been ready for a fresh attack.
A leader of one of the special forces units that took part in the raid said drones and robots equipped with cameras had been used to try to see inside the flat during the operation but there was too much debris. A police dog was shot dead by the militants during the operation.
Jean-Michel Fauverge told Le Figaro newspaper that when they entered the building they found a body that had fallen from the third floor to the second.
More on the Paris attacks
Special report: In-depth coverage of the attacks and their aftermath
"The corpse was mutilated, probably from grenades and he wasn't recognisable," he said.
"Other people were in the stairwell, two men hiding under blankets and whatever they could find. We arrested them."
Mr Molins said on Wednesday that the identities of the eight people arrested in the raid had not been confirmed.
However, they did not include Salah Abdeslam, the 26-year-old French national identified as a suspect in Friday's killings and believed to be on the run. Seven other militants died in the attacks.
The raid's target, Abaaoud, is considered to be a key figure in an IS cell that US intelligence agencies have been tracking for months, US officials told AP news agency.
He was believed to have escaped to Syria following a police operation in Belgium in January and has boasted in IS propaganda of being able to move between Europe and Syria undetected.
Following Friday's attacks on a concert hall, cafes and the Stade de France stadium, President Francois Hollande declared a state of emergency for 12 days.
The bill going before France's lower house of parliament on Thursday and the senate on Friday includes:
Extending the state of emergency for three months
Placing under house arrest anyone deemed to be a public threat
Barring suspects from communicating with each other
Allowing police to carry out searches at any time, without the prior approval of a judge, if the public is thought to be in danger
Analysis: Kevin Connolly, BBC News, Paris
The French government is asking parliament to extend the sweeping powers it gives the authorities for a further three months.
It has not hesitated to argue that in times of crisis like this the balance between liberty and public safety must be shifted.
That means a huge and highly visible deployment of uniformed troops and police officers alongside a battery of more subtle measures, such as the curtailment of some public gatherings and of school trips to museums, galleries and other public places that might be targeted.
IS said it had carried out the attacks in response to France's air campaign against its positions in Syria, and pledged further bloodshed.
France has since stepped up its air strikes against IS targets in Syria.
Both France and Russia - which is also targeting militants in Syria - are putting together draft resolutions at the UN Security Council that would lay out an international approach to defeating IS.
President Hollande has urged the council to approve a resolution on fighting IS quickly.
What is Islamic State?
IS is a notoriously violent Islamist group which controls large parts of Syria and Iraq. It has declared its territory a caliphate - a state governed in accordance with Islamic law - under its leader Abu Bakr al-Baghdadi.
What does it want?
IS demands allegiance from all Muslims, rejects national borders and seeks to expand its territory. It follows its own extreme version of Sunni Islam and regards non-believers as deserving of death.
How strong is IS?
IS projects a powerful image, partly through propaganda and sheer brutality, and is the world's richest insurgent group. It has about 30,000 fighters but is facing daily bombing by a US-led multi-national coalition, which has vowed to destroy it.
'No timetable' for Syria strikes vote
---
Are you in Paris? Have you been affected by the events over the past week? Do you have any information you can share? If it is safe to do so, you can get in touch by emailing haveyoursay@bbc.co.uk
Please include a contact number if you are willing to speak to a BBC journalist. You can also contact us in the following ways: