German Tornado jets to help French against IS in Syria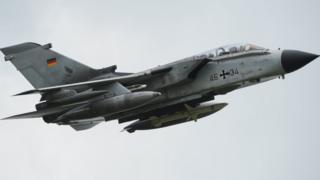 Germany plans to deploy Tornado reconnaissance jets to help the French air campaign against so-called Islamic State (IS) in Syria.
A naval frigate, satellite images and aerial refuelling will also be provided, the defence minister said.
France has asked Germany to commit more resources after the deadly Paris attacks - carried out by IS militants.
"We know that this inhumane rage can hit us or other societies at any time too," said Ursula von der Leyen.
Germany will also bolster its military training mission in northern Iraq, where it is helping Kurdish forces battling IS militants, German MP Henning Otte said.
"Germany will be a more active contributor than it has been until now" in the anti-IS offensive, Mr Otte said.
After Paris: the fight against Islamic State
Belgian authorities reduce threat level in Brussels - alert downgraded after week of lockdown that saw schools closed and soldiers deployed
Russia prepares sanctions against Turkey - Russia to introduce wide-ranging economic sanctions after Turkey shot down Russian jet
Germany to deploy Tornado jets against IS - Angela Merkel pledges reconnaissance jets to help French air campaign against IS in Syria
Police in Berlin arrest two suspected Islamists - arrests made and mosque searched in the city's Charlottenburg district in response to an "actual threat"
Angela Merkel says Germany will "act quickly" - German chancellor tells Francois Hollande it is country's "duty" to support France's anti-IS fight
US, French and allied warplanes are pounding IS targets in Iraq and Syria. Separately, Russian jets are bombing IS and other rebel groups in Syria.
The German frigate will join the French aircraft carrier Charles de Gaulle off Syria and an army satellite will be deployed over Syria, German media reported.
The German air force has 85 Tornado planes, and has used the reconnaissance versions previously in the Balkan and Afghanistan conflicts.
Merkel's support
On a visit to Paris on Wednesday, Mrs Merkel told Mr Hollande that it was Germany's "duty to reflect" and to "act quickly".
After the 13 November carnage in Paris - described by IS as its revenge on the "crusaders" - France invoked a clause requiring EU member states to provide military assistance.
At least one suspected IS attacker is still at large.
"We are stronger than any terrorism. Nevertheless, terrorism must be fought with all possible force," said Mrs Merkel.
IS "can't be convinced with words, it must be fought with military means", she added.
French MPs have voted overwhelmingly to continue air strikes against IS in Syria beyond early January.
And Germany has also announced it will deploy 650 troops to Mali - a move that Mrs Merkel said was designed to provide relief to the 1,500 French soldiers already stationed there.
French troops have pushed back Islamist gunmen who seized northern Mali in 2012.
Borders under strain
Mrs Merkel and Mr Hollande also addressed European border controls, which have come under renewed scrutiny after it emerged that two of the suicide bombers at the Stade de France had travelled into Europe through Greece.
They agreed that better controls were needed at the EU's external borders.
But Mr Hollande said it was important not to see migrants, many of whom were fleeing IS, as a terror threat, even though some extremists may have used the flow of migrants into Europe for their own ends.
Earlier, his Prime Minister Manuel Valls argued that European countries could not accept so many refugees.
A note on terminology: The BBC uses the term migrant to refer to all people on the move who have yet to complete the legal process of claiming asylum. This group includes people fleeing war-torn countries such as Syria, who are likely to be granted refugee status, as well as people who are seeking jobs and better lives, who governments are likely to rule are economic migrants.