Turkey warns Russia not to 'play with fire' over downed jet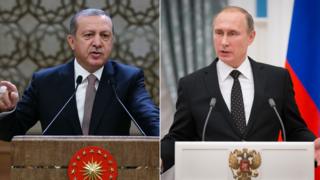 Turkish President Recep Tayyip Erdogan has warned Russia's President Vladimir Putin not to "play with fire" over his country's downing of a Russian jet.
Mr Erdogan also said he wanted to meet Mr Putin "face-to-face" at climate talks in Paris to resolve the issue.
Mr Putin wants an apology from Turkey before he will speak to Mr Erdogan, the Russian president's aide said.
Russia has suspended its visa-free arrangement with Turkey in the latest of a range of retaliatory measures.
Turkey says the Russian warplane was in its airspace when the decision was taken to shoot it down on Tuesday - Russia insists the plane was flying over Syria at the time.
Tensions have been heightened by the fact that the two countries are pursuing different aims in Syria.
Russia has been carrying out air strikes against opponents of President Bashar al-Assad since late September, while Turkey, which is a member of a US-led coalition, insists Mr Assad must step down before any political solution to the crisis is found.
However, all are united in trying to rid the region of the so-called Islamic State (IS), also known as Daesh.
---
Strongmen's war of words: Analysis by BBC Turkish's Ebru Dogan
On Thursday, Turkey's President Erdogan seemed to offer an olive branch to Moscow when he told France 24 TV: "If we had known it was a Russian plane, maybe we would have warned it differently." On Friday, he accused Moscow of "playing with fire" and "lying".
Did he change his rhetoric dramatically in less than 24 hours? Hardly. The first message was delivered to a Western audience, the second, to a domestic.
Turkey's Western allies in Nato fully backed Ankara in the crisis - but also questioned in more hushed tones whether 17 seconds of airspace violation was good enough reason to shoot down a plane.
Despite the harsh rhetoric on Friday, Mr Erdogan also repeated his offer to meet Mr Putin next week. But Mr Putin made clear that he wants an apology before he agrees to a meeting. The war of words between the two strong men of the East shows no sign of abating.
---
In a televised speech, Mr Erdogan warned Russia it was "playing with fire to attack the Syrian opposition, who have international legitimacy, under the pretext of fighting against Daesh".
He said Moscow was also playing with fire to use the downing of the jet "as an excuse to make unacceptable accusations against us", and accused Russians of "mistreating" Turkish citizens who were in the country for a trade fair.
Mr Erdogan said he hoped to meet Mr Putin face-to-face on the sidelines of the climate summit in Paris next week "to bring the issue to a reasonable point. We are disturbed that the issue has been escalated."
While he has refused to apologise, Mr Erdogan did say on Thursday that had Turkey known the plane was Russian, "may be we would have warned it differently".
But Mr Putin has firmly rejected any suggestion Turkey did not recognise the plane as Russian. He said it was easily identifiable and its coordinates had been passed on to Turkey's ally, the US.
A senior Russian commander went further on Friday and claimed the Russian jet was "ambushed" by two Turkish F-16s.
Gen Viktor Bondarev said Russian and Syrian radar data showed the F-16s had been flying in the area for more than an hour, and the plane that fired the missile did so from 2km (1.2 miles) inside Syria.
The Russian plane was shot down 5.5km (3.4 miles) south of the Turkish border, he said.
The Turkish military earlier in the week released audio of what it said were repeated warnings to the Russian jet to change its course, and claimed the jet had spent 17 seconds in Turkish air space before being shot down.
Announcing the suspension of a visa-free travel regime with Turkey from 1 January, Russian Foreign Minister Sergei Lavrov said he believed the Turkish leadership had "crossed the line of what is acceptable".
Russia on Thursday said it was drafting a wide-ranging list of economic sanctions against Turkey, that would hit food imports and joint investment projects among other things.
Turkey and Russia have important economic links. Russia is Turkey's second-largest trading partner, while more than three million Russian tourists visited Turkey last year.