Armenia fraud claims mar referendum on constitution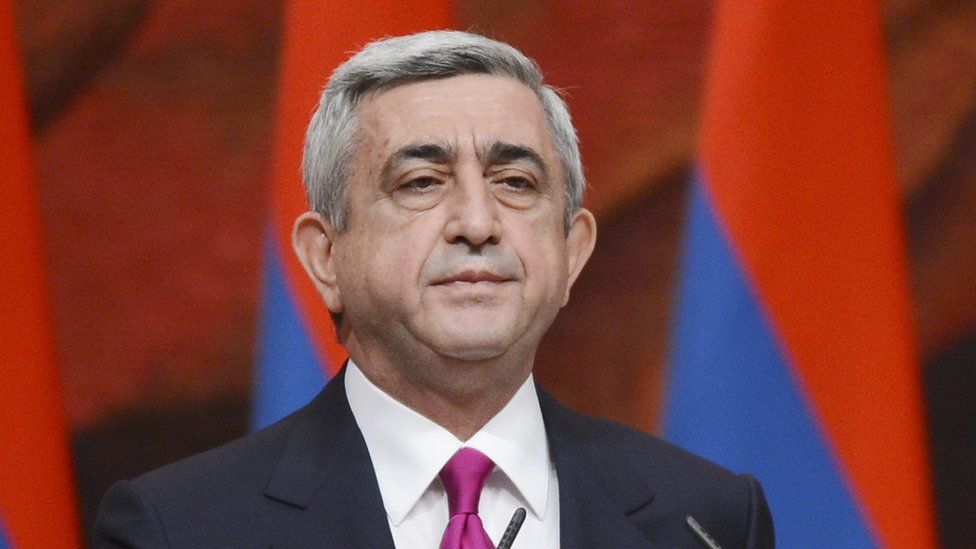 Serious irregularities tainted a referendum on Armenian constitutional reform, opposition MPs and independent European observers say.
Sunday's vote showed majority approval for boosting the prime minister's role and making the president's job largely ceremonial, according to official data.
But MPs from the Council of Europe said voting lists were inaccurate and "too many citizens" saw the reform as a vehicle for President Serzh Sargsyan.
He could become prime minister in 2018.
Armenia's electoral commission said 63.35% of the electorate voted for the constitutional reform.
The turnout was just over 50%, making it valid.
But the head of the No camp, opposition MP Levon Zurabyan, complained of large-scale vote-rigging.
"There were mass cases of ballot-stuffing, violence, pressure, vote-buying," he said.
He and some other opposition MPs boycotted Monday's parliament session in protest. Hours earlier, hundreds of people joined a protest rally in the capital, Yerevan.
The Parliamentary Assembly of the Council of Europe (PACE) raised similar concerns about the vote, and said the run-up to it had been marred by "little public debate".
The low turnout "reflects the fact that the referendum was driven by political interests instead of the needs of the Armenian public", it said.
And the reform "was understood by too many citizens as being a means for the current president to remain in power after the end of his second (and what would have been final) term". The Council of Europe is the top European human rights watchdog.
Lene Wetteland of the European Platform for Democratic Elections (EPDE) said "we are disappointed by both the campaign and the vote itself.
"The (ruling) Republican Party of Armenia exerted serious pressure on both observers and journalists," she said.