Puppy from Russia for French police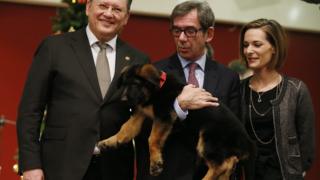 Russia has presented France with a puppy as a symbolic replacement for a police dog killed in the aftermath of the Paris attacks last month.
The death of the dog, called Diesel, during a police raid in Saint-Denis, sparked international sympathy.
Three people, including the suspected ringleader of the deadly attacks, were killed in the massive raid.
The German shepherd puppy was named Dobrynya after a knight from Russian folklore.
He was handed to the French ambassador in Moscow, who called it an extraordinary gift.
It is unclear how long Dobrynya is likely to have to spend in quarantine before joining the French police force.
Thousands declare 'Je Suis Chien' and 'Je Suis Diesel' after dog killed in Paris raid