Irish Army assists in Republic of Ireland as flood warnings remain in place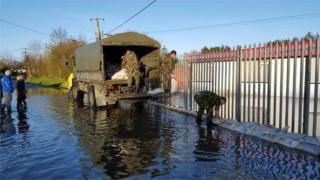 The army has been deployed in the Republic of Ireland amid warnings of severe flooding in parts of the midlands and southwest.
Continuing rainfall has also swelled streams, rivers and reservoirs.
New weather warnings were issued by the Irish weather service Met Éireann as additional rainfall was predicted in Connacht, Donegal, Clare and Kerry.
Soldiers have been deployed since the weekend in affected counties and have been helping to distribute sand bags.
The River Shannon is expected to continue rising and is not expected to peak until Sunday or Monday.
The chairman of the National coordination group, Sean Hogan, said water levels on the Shannon were approaching levels last seen in 2009.
"In all other rivers, the water levels have been in decline, but the Shannon has continued to rise," he said.
"One fifth of the country drains through the Shannon down the Limerick and that's a slow river in hydrological terms so it will probably be a full seven days before the water clears from last weekend.
'Vulnerable'
"Unfortunately, the mid to lower Shannon reaches, that's from Athlone down to Limerick are still rising and it's not yet at 2009 flood levels yet, but it is approaching those.
"Depending on how much it continues to rise there are properties vulnerable along the Shannon banks in two areas in particular, in the town of Athlone and further south at Parteen Weir."
Mr Hogan said members of the defence forces were assisting local authorities in their flood response co-ordination.
"The troops have their high bodied lorries which are very suitable for working in the flood waters," he said.
In County Donegal, a doctor's surgery in Castlefin has had to close because of flooding.
A small number of families in the village have also had to move out of their homes.